Shopping Cart
Your Cart is Empty
There was an error with PayPal
Click here to try again
Thank you for your business!
You should be receiving an order confirmation from Paypal shortly.
Exit Shopping Cart
Grandma's Place of Natural Learning Center
Is The Best Place for Learning
We left off in the History Calendar of Book (1) towards the end of June 15. The rest of the day into the 16th and 17th Grandma will cover along with lessons on the Circus in Book (1) and Book (57). Before lessons I want to add a note to parents in our Home Education Program of home schooling a few pointers. That is to make sure you have a line of some kind set up to attach notes of history on beginning with the time of dinosaurs and man through the Bible and into American History along with space for any other history needed. These will take up a lot of space so be prepared. Then make sure you have a big calendar set up-a poster one is best-for birthdays, weather notations and notes necessary for lessons. Also have an area for pretend news and weather broadcasts; along with plays and puppet shows, or doll play of roles. Act out role plays of characters if wish in these areas. The same place can be used for dance and exercise. Next have a place for writing, drawing and other forms of art. You may want a separate space for sewing and one for hand sewing. Also provide a place for books and supplies. You may want these areas marked as in Day Cares. Also provide plenty of space for lists or posters and projects for words and sounds to learn. Notebooks can also do a lot.( Grandma will also make a note of this on the Home page.)
Now Grandma will give you the beginning summer lessons as follows:
June 15 1904 Mary McCann Helped Save 20 People after the
steamship General Slocum caught fire in New York's East River.
Book (1) says in "Young heroine-While recovering from the measles in a New York City hospital over-looking the East River, 14-year-old Mary McCann saw a steamboat on fire. Still feverish, she ran to the river and yelled encouragement to the people floundering in the water. Her courageous act helped save 20 people, including nine children, and she was awarded the Silver Lifesaving Medal by the U.S. Congress. Invite your (children) to design their own ...medal to commemorate heroic deeds. Then, over the next month, have students clip and share newspaper articles about people who have helped others. Encourage the kids to write letters congratulating these people and to include copies of the class-designed medal."
June 15, 1988 General Motors Corp.'s Sunracer established a Speed Record for Solar-Powered Cars. Its top speed: 48,712 mph.
June 15 is also A Friend in Need is a Friend Indeed Day as well as a Smile Power Day in which Book (1) says in "Miles of smiles-Here's a fun way to celebrate Smile Power Day. In the center of a large sheet of paper, write the words "It's Great to Smile Because..." Post the paper in the hallway or outside your (bedroom) door. Then encourage (the children) to use this "graffiti-style" message center to complete the sentence."
June 16 has only two birthday's as follows:
June 16, 1890 Stan Laurel, English comedian, was born.
June 16, 1920 John Howard Griffin, American
photographer and author of Black Like me, was born.
The Events for June 16, are as follows:
June 16, 1497 Amerigo Vespucci claimed he sighted
the mainland of America on this day.
June 16, 1836 Arkansas became the 25th state.
June 16, 1858 Abraham Lincoln made his famous
"House Divided" speech in Springfield, Ill.
June 16, 1897 The Alaska Gold Rush began.
June 16, 1922 The First Helicopter Flight took place in College Park, Md.
June 16,  1939 Hundreds of Tiny Frogs fell on Trowbridge, England.
June 16, 1963 Lieutenant Valentina Tereshkova of the
Soviet Union became the First Woman in Space.
June 16, 1980 The U.S. Supreme Court ruled that Scientists
Who Developed New Forms of Life in laboratories could
patent their creations.
June 16, 1987 The Dusky Seaside Sparrow became extinct.
Book (1) says in "Vanishing wildlife-Tell your (children) that on this day in 1987, the last dusky seaside sparrow died in a wildlife preserve at Walt Disney World in Florida. Then encourage the kids to take steps to protect animals for the future. Have each child research an extinct animal, draw a picture of the animal, and write a one-paragraph report about it. Next. have the (children) each write a letter to their state or federal representative telling about their animal and asking for help in saving other wildlife. Have the children include their drawings and reports with the letters. Make copies for a ... display entitled "The Extinct Zoo...What You Can Do About It." Add any responses your students receive to the display."
June 16, 1988 A China Shop Owner decided to find out
what a bull in a china shop would really do.
Book (1) says in "Risky business-Grant Burnett, a china shop owner in New Zealand, always wondered what a bull would do in a china shop. He borrowed Colonel, a 2,000-pound Hereford, and let the animal roam around the store for 3 hours. Burnett risked thousands of dollars' worth of dishes, but Colonel didn't break a thing. Ask your (children) to think of other descriptive animal phrases (for example, eyes like a hawk, quiet as a mouse, fish out of water, hold your horses, sly as a fox, clam up, dead as a dodo). Have them each select a phrase, then illustrate its literal and figurative meanings. Afterward, read aloud Eve Merriam's poem "Cliche," which deals with figurative and literal language. Then ask your students to write poems about their animal subjects."
June 16 is also South Africa's Soweto Day and Korea's Tano.
Next is June 17th with three birthdays as follows:
June 17, 1870 George Cormack, inventor of Wheaties cereal, was born.
Book (1) says in "Breakfast favorites-To celebrate the birthday of George Cormack, inventor of Wheaties cereal, poll your (family to see if any of you) have eaten Wheaties. Do (you ) eat it regularly? Why or Why not? Next , invite your (children) to each name their favorite cereal, Then use three adjectives to describe its taste. List all the adjectives on the board (or a piece of paper.) How many different ones are there?"
June 17, 1882 Igor Fyodorovich Stravinsky, Russian-American composer, was born.
June 17, 1898 M.C. Escher, German mathematician, was born.
Next come the events for June 17 as follows:
June 17, 1579 Sir Francis Drake landed on the California coast.
June 17, 1682 William Penn founded the City of Philadelphia.
June 17, 1775 The Battle of Bunker Hill, one of the earliest
engagements of the Revolutionary War, was fought near Boston.
June 17, 1856 The First Republican Party National
Convention took place in Philadelphia, Pa.
June 17, 1873 Susan B Anthony was fined $100
for voting in the 1872 presidential election.
June 17, 1925 The First National Spelling Bee was held.
Book (1) says in "Cooperation bee-Hold a cooperative spelling bee in your (home0. ....--without using dictionaries--work together to correctly spell words you call out. Give each...a point for each correctly spelled word. The (one) with the most points at the end of a specified period wins."
June 17, 1972 Five burglars were arrested at the
Democratic Party headquarters in Washington, D.C.
The break-in and subsequent cover-up, which came
to be called Watergate after the building where the
burglary occurred, ultimately led to the resignation
of President Richard M. Nixon.
June 17, 1979 Richard Brown set a prone-position
Skateboard Speed Record of 71.179 mph on a
course at Mr. Baldy, Calif.
June 17, 1991 President Zachary Taylor's Remains
Were exhumed (141 years after his death) in
Louisville, Ky., to investigate the theory that
he had been poisoned. No evidence was found to
support the theory.
June 17 is also Independence Day in Iceland and it is used to mention that June is Carnival and Circus Month.
Book (1) says in "Celebrating the circus-Tell your (children) that the circus originated in ancient Rome, where it was a place for chariot races and combat between gladiators. Then have the children look up the origin of the word circus. (Its Latin meaning is "circle.") Next, have students brainstorm for the kinds of acts and performers found in modern-day circuses--for example, dancing elephants, trapeze artists, clowns, jugglers, bareback riders. Ask children who've been to a circus to describe the acts they saw. Finally, have your (children) imagine they could be a circus performer or a day, and ask them to write and illustrate stories about what they'd do."
Book (57) uses the following unit to tell about it:
"The Circus Yesterday, Today, and Tomorrow by Pat O'Brien
Historically, the circus has been around for a long time. Performers doing acrobatic stunts appear in Egyptian wall paintings. Marco Polo reported being entertained by jugglers and tumblers in the court of Kublai Khan.
Early people caught and trained wild animals. While most of these were used for religious ceremonies, others became part of a menagerie kept to showcase rare and unusual species. In Rome, the circus Maximus, a large animal theater for chariot racing, also presented trick riders, familiar with today. The show is made up of clowns, acrobats, animal acts, and colorful spectacles.
The purpose of this unit is to explore the circus world from the known to the unknown. You will compare the training of pets to the preparation of wild animal acts. You will proceed from climbing about on the jungle gym to learning about flying through the air. You will learn how clowns advance from being accidentally funny to working on routines and tricks to entertain an audience.
The Circus World
In the winter, the circus community prepares for the coming year. New acts are developed and perfected, while old ones are practiced and improved. Trainers work with their animals. Acrobats and aerialists stay in shape rehearsing their acts and trying new routines. Clowns create new tricks.
On the road, circus performers travel from one location to the next, thrilling audiences with circus magic.
Research the history of the circus. Discover an interesting way to share your findings with the class.
Write five reasons for circuses.
Make a diorama showing a circus scene. ( Or design a scene in a big box or on a table.)
Presenting...
Because of his ideas, leadership, and inspiration, P.T. Barnum influenced the circus world. Read to find out about his contributions to the circus.
List five or more events from his life.
Make a  (separate) time line to show when these incidents happened.
Using the information on the time line, make a filmstrip showing the highlights of his life.
          (Also a good thing to put in your newspaper.)
Clown Alley
A clown's job is to make others laugh by doing tricks, acting, and wearing funny clothes. In the circus, clowns entertain and fill in while the next acts are being set up or when something goes wrong. From makeup to funny shoes, each clown develops a unique look.
If possible, ask a local clown to talk to the (children) about how clowns apply makeup and put together a routine.
Clowns often practice the art of mime. A mime uses gestures and actions rather than words. See if you can perform a routine without speaking.(One of my most happiest time was when my sister and her friend dressed up as clowns and put on an act for myself and other children of the neighborhood. It was really a fun day.)
Clown College offers courses in the history and art of clowning. There are also classes in makeup, mime, using and making props, juggling, and other talents useful to clowns. (For information, write to Ringling Bros. and Barnum & Bailey Clown College, 1401 Ringling Drive, South Venice, FL, 33595.) (This may not be possible any more because they have had to quit from what I heard on the Channel 6 News in Omaha, NE )                                                              a.      if you think you have a future as a clown, what are your qualifications?
                          b.      Write a letter to the Clown College stating your talents. Ask for an application to the school. (This will be a practice letter since you have to be at least seventeen years old to enroll.)                                                                                                                          c.       What questions do you think an application for Clown College would ask?
Write a paragraph telling why you would like to be a circus clown.
Write a poem about a clown with alternating line: I seem to be....But I really am.....
Presenting...
Throughout the years, there have been famous circus clowns. Find out more about one of them and write his or her biography. Focus on what he or she has accomplished as a clown. Share and compare the lives of these clowns to see if you can find some lives of these clowns to see if you can find some common traits. Put together a clown bulletin board (or a poster).
Imagine That!
As a circus performer, write your autobiography explaining what made you decide to become a clown. Tell about your act. What's hardest about being a clown? What do you like best? What you're not performing. what do you do? Be sure to include a self-portrait showing you in costume.
Art Activities
Have a partner trace around you on a large sheet of paper. Use the outline to make a life-sized clown. (Butcher paper is good for this.) Use the outline to make a life-sized clown. With markers, paint, or crayons, add details of the clown's costume and face.
On a piece of cardboard, draw a clown. Use paint, scraps of cloth, and yarn to complete the costume and face.
Draw a clown face on a paper plate and decorate it.
Construct a clown puppet.
Be a Circus Clown
Learn to juggle. Begin with bean bags or inexpensive chiffon scarfs then progress to tennis balls.
Plan your costume and special clown face.
Create and practice a routine.
Mainly Mammals
The circus presents wild and exotic animal shows to the public. Before zoos became popular, this was the only opportunity people had to see elephants, lions, and tigers. Today there is a need to provide protection for these rare animals whose natural habitats are threatened. Circus animals are cared for, provided with food, and given medial attention.
You Make the Choice
List the pros and cons of using rare and exotic animals in the circus.
As an animal rights activist, what stands do you take?
As an (environmentalist), what are your thoughts?
Calling All Pets
To better understand the task of a wild animal trainer, consider the care necessary to maintain a domestic animal.
What care do you give your pet? What kind of food does it get and how much?
If you have a pet, teach it a trick. What trick do you want the animal to perform? How will you go about teaching it? Keep a record of your instructions.
Present an oral report to explain how you trained your pet, teach it a trick. What trick do you want the animal to perform? How will you go about teaching it? Keep a record of your instructions.
Compare your method with one used by a classmate.
Trainers and Trainees
A bond of mutual trust is established between the trainer and the animals.
List the responsibilities of a circus trainer. What jobs would he or she be expected to do?
What traits should a wild animal trainer have? Are they any different than those needed to train a domestic animal?
How do you think circus performers go about training wild animals?
List animals that appear in the circus. Select one type of wild animal. What kind of care and attention does it get? What kind of food? How much exercise?
Compare caring for and training a pet to getting a wild animal ready to perform in an act.
Compare caring for and training a pet to getting a wild animal ready to perform in an act.
Write an essay about wild animals in general and circus animals in particular.
Write the life story of a circus animal.
Presenting
Gunther Gebel-Williams, now retired, was a world famous animal trainer with the Ringling Brothers and Barnum & Bailey Circus.
Read to find out more about his life as a trainer. How did he prepare the animals to perform?
Pretend you are an interviewer on a television show. Think of some questions you would like to ask Gunther Gebel-Williams. How do you think he would respond? Write a script and practice the interview with a partner.
Imagine That!
If you ran the circus, what animals would perform?
Using your imagination, write a resumé stating your qualifications to be a wild animal trainer.
Write about how it feels to be a lion tamer. What's the hardest part?
If you were an elephant, or another animal, would you rather be in a circus or a zoo? Why?
Would you rather be a veterinarian in a zoo or a circus? Why?
Problem Solving
The many animals in the circus need a great deal of food each day. At every stop along the route, fresh fruits, vegetables, and grains are purchased from local merchants.
Given the following information about weekly purchases, what story problems can you create?     10 tons of hay, 150 bales of straw, 1,000 pounds of meat, 400 crates of carrots, 1 crate of apples, 1 box of bananas, 500 loaves of bread
Write additional imaginative problems using circus facts and figures.
Poems
Search for poems about animals that perform in the circus.                               
      a. Choose one to illustrate.
      b. Memorize it and recite it for the (family).
      c. Present it as a choral reading.
Art Activities
Make papier-mâché animals. Display them in colorful wagons.
Design circus animal pins from clay.
Use magnetic tape to make refrigerator magnets.
Make a mobile featuring circus animals.
Circus Animals
Plan a pet parade. You and your pet can march around a ring in time to recorded circus music.
Does your pet know a special trick? Prepare a "wild animal" act to present to an audience.
Fabulous Flights
They fly through the air, walk on wires, or tumble in the ring. They perform feats of strength, balance, and courage. They are acrobats, aerialists, and flyers.
If possible, read A Very Young Circus Flyer, by Jill Krementz. A young boy, a member of a family of flyers, tells about his life with the circus.
Begin by moving to music. Feel the rhythm.
Depending on the equipment available, practice moving on bars and rings. Tumble on mats.
Poetry in Motion
List words (verbs) that describe the ways a performer moves as he or she flies through the air or tumbles in the ring. Arrange the words to create a motion poem that reflects the movements of the performer.
Add to the words on the list and group them to compose a motion poem.
Write ...about an acrobat's performance.
Presenting...
Jules Leotard invented and introduced the flying trapeze. Like many inventors, he made his discovery accidentally.
Read to find out how this invention changed circus performances.
If Leotard kept a journal during the time he was developing the flying trapeze, what would he have written? Write five journal entries from his point of view.
Can you think of something you might invent to improve a way of doing something? Explain what you want to improve and write about your plan. Include a sketch of your idea.
Circus Flyers and Tumblers
Using playground equipment (bars, rings, the jungle gym, etc.), develop an acrobatic routine set to music. Include gymnastic tumbling and balancing. Make sure the exhibition of physical fitness is safe and entertaining.
Tie-dye a shirt for the performance or use fabric markers to design a T-shirt.
The Day the Circus Came to Town
Read Dr. Seuss' If I Ran the Circus and decide how you would run a circus. Write a book with the same title, but use your own circus.
Study a map of your state. What cities would your circus visit?
Plan a route you would follow from town to town.
Write a news story about the arrival of the circus.
Make posters advertising the performances.
Write a review of the show. Tell about the acts that people will be viewing.
Art Activities
Think about the word circus. Study each letter. What does it remind you of? Design an alphabet with a circus theme.
Use thumbprints to create a circus scene. Make a print and add lines to complete the figures.
Circus Performance
After studying the different facets of the circus, it is time to put the parts together and present your own show.
Display posters to announce the circus.
To begin the Make-a-Circus extravaganza, organize a parade of costumed performers. March to recorded circus music. Include a marching kazoo band.
Sell popcorn and balloons.

Dear Folks:
June's Project of the Month is Fresh Fruits and Vegetables Chart. Grandma is going to ask you to
 do it a little different than what Book (1) has asked for it.
Grandma wants the children to think of all kinds of Fruits and Vegetables to list on a chart. Then
I want them to record which ones are the favorites of each person in your family. Then I want them
to record the ones each of you dislike the most. Then I want to find out about each one that is:
what they do for the body, the calories, the nutrients it has, and anything else important about them.
I want them to research about cancer and how fruits and vegetables help them from getting cancer.
Then I want them to research about Monsanto and GMO's and how they are bad for the insects and
could be for you. Then I want them to research about Organic growing and how it works and why 
people are doing it and the many ways how.
June's Month long Observances are as follows:
Accordion Awareness Month
American Rivers Month
Arts and Crafts Month
Carnival and Circus Month
Fresh Fruit and Vegetable Month
National Adopt-a-Cat Month
National Cheeseburger Month
National Dairy Month
National Recycling Month
National Rose Month
National Theater Month
Papaya Month
Tennis Month
Zoo and Aquarium Month
Week long Events
International Volunteers Week (first week)
National Safe Boating Week (first week)
Teacher Thank You Week (first week)
National Little League Baseball Week (week beginning with the second Monday)
National Flag Week (week including June 14)
National Physical Therapy Week (third week)
Amateur Radio Week (week ending with the fourth weekend)
Special Days and Celebrations
Flag Day (June 14)
Father's Day (third Sunday)
First day of summer (on or about June 22)
June 1 has 3 birthdays as follows:
1637 Jacques Marquette, French Jesuit missionary and explorer
1849 Francis Edgar Stanley, inventor of the first successful
steam-driven automobile
Oscar the Grouch, "Sesame Street character
Book (1) has an activity for this called "Have a grouchy birthday-Young children will enjoy
celebrating Oscar the Grouch's birthday by brainstorming for yucky things--for example, muddy
shoes, liver and onion sandwiches, or hair tangled with bubble gum. List your childrens' ideas on
the chalkboard, then have the children use the list their poems on construction-paper trash cans.
Next are the Events for June 1 as follows:
1792 Kentucky became the 15th state.
1796 Tennessee became the 16th state.
1802 The first Book Fair took place in New York City.
1813 Mortally wounded in a War of 1812 naval engagement,
 Captain James Lawrence told his crew,"Don't Give Up the Ship,"
which became the motto of the U.S. Navy.
1925 New York Yankees star Lou Gehrig began his record string of
Playing in 2,130 Consecutive Baseball Games.
1938 The first issue of the "Superman" Action Comics appeared.
Book (1) has the following activity to go with it called "Signs of a superhero-In honor of
Superman's comic-book debut, ask your (children) to write a paragraph about where they first
discovered this superhero (for example, on TV, in motion pictures, or on videos) and to briefly
describe him. Then have the kids interview parents and grandparents about their memories of
Superman. How do these views compare with those of your (children)? Finally, make a ...list of
a superhero's positive qualities. Can your (children) name real people who also display these
qualities?"
1990 Soviet president Mikhail Gorbachev and U.S. president George Bush
Signed More than a Dozen Agreements at the White House.
June 1 is also
Children's Day in (Germany)
International Mother's Peace Day
International Volumteers Week (first week in June)
Book (1) says in "Student volunteers-During International Volunteers Week, challenge your
(children) to name volunteer jobs they could do at home, ... and in the community. Encourage
them to each do at least one volunteer activity this week, then report back to the family.
June 2 has three birthdays as follows:
1914 Paul Galdone, children's author
Book (1) says in "Adaptable tales-Tell your (children) that Paul Galdone drew great satisfaction
from adapting favorite old tales to a picture-book format. Invite the kids to name familiar fairy
tales, fables, and tall tales they enjoy. Then have them work ... to adapt and illustrate one of
these stories. Arrange for (them) to share their work with (others)"
1929 Norton Juster, children's author who wrote The Phantom Tollbooth
1934 Anita Lobel, children's author and illustrator
June 2 Events are as follows:
1883 The first Night Baseball Game took place in Forth Wayne, Ind.
1886 Grover Cleveland became the First President to Get Married
in the White House.
1896 The Italian inventor Guglielmo Marconi received a patent for
Electromagnetic Wave Broadcasting, the basis of radio and television. 
Book(1) says in "Forms of Government- On the anniversary of Italy's governmental referendum,
have your (children) compare and contrast a republican form of government with a monarchy.
What are the strengths and weaknesses of each system? Would any of your (children) prefer a
monarchy under any circumstances? Why or why not?"
1924 Congress granted Citizenship to All American Indians.
1946 In a referendum, Italy Chose a Republican Form of Government
over a return to the monarchy.
1949 Five different players on the Philadelphia Phillies baseball team
hit 8th-Inning Home Runs.
1966 The U. S. spacecraft Surveyor 1 landed on the moon and began
to relay the First Close-Up Pictures of the Lunar Surface.
June 2 is also Teacher Tank You Week (first week in June)
Book (1) also states in "Time for thank-yous-During Teacher Thank You Week, invite your
students to write short notes to their former teachers, thanking them for some special kindness
or memorable contribution. Arrange to deliver the notes throughout the week as a special way
to celebrate the important role teachers play in children's lives." (Considering you may have
only been their only teacher, have them carry this out for you--You definitely deserve it. It takes
a lot for you to give up your time and carry out the task of teaching your own children.)
June 3 only has two birthdays as follows:
1808 Jefferson Davis, president of the Confederate states
1904 Charles Drew, American surgeon who developed techniques
for processing and storing blood plasm for use in transfusions.
Events for June 3 are as follows:
1851 The New York Knickerbockers wore The First Baseball Uniforms.
1888 The poem "Casey at the Bat" first appeared in print.
1932 Lou Gehrig became the First Major Leaguer to
Hit Four Consecutive Homers in one game.
1937 After renouncing the British throne, the Duke of Windsor
married Mrs. Wallis Simpson.
1948 The World's Largest Telescope--a 200-inch reflector--was
dedicated at Mount Palomar Observatory in California.
1949 Wesley A. Brown became the First African-American to
Graduate from the U.S. Naval Academy at Annapolis.
1965 Major Edward H. White took the First Space Walk by an American.
1965 Silver was Eliminated from U.S. dimes and quarters.
June 3 is also Broken Dolls Day in (Japan). Book (1) says in "A day for dolls-On Broken
Dolls Day in Japan, young girls and their mothers bring broken dolls to Buddhist priests to
be enshrined. Ask your (children) to bring in their broken dolls or action figures. Then set
up a ...repair station where (the children) can apply a little glue and a lot of ingenuity to fix
the dolls. Also invite the children to use extra parts to create new dolls. Afterward, have them
write stories or poems about the dolls. ...
June 3 is also used by Book (1) to extend the monthly lesson on fruits and vegetables in
asking the children "to celebrate Fresh Fruit and Vegetable Month, (challenging them) to
create a still-life arrangement out of fruits and vegetables. Then have the kids use watercolors,
charcoal, pen and ink, or colored pencils to depict their arrangements. Ask the (children) to
make up fact sheets that list the artwork's title as well as the foods represented and their
nutritional benefits. ..."
Only one birthday for June 4th as follows:
1738 George III, English king who reigned during the American Revolution
The Events for June 4th are as follows:
1070 Roquefort Cheese was first discovered in a cave in France.
Book(1) writes about it in "Moldy Meal-According to legend, in 1070 a shepherd boy
accidentally left his lunch--bread and sheep's milk cheese-in a cool limestone cave near
Roquefort, France. He returned to the cave weeks later and found the lost food covered
with black mod. He ate it anyway. The bread had a bad taste. The cheese looked peculiar
but tasted good. To this day, cheese made of sheep's milk ages in those same limestone
caverns. Bring in some Roquefort cheese and invite your (children) to sample it. Can they
name other foods in which bacteria is an essential ingredient? (Such foods include yogurt,
sour cream, and other kinds of cheeses.)"
1787 Delegates to the Constitutional Convention approved the
idea of a Single Chief Executive to Govern the Nation.
1896 Henry Ford successfully test drove the First Ford Car.
1929 Illinois selected the Cardinal to be its state bird.
Book (1) says in "State symbols-Many states have state birds. Challenge your (children to
find out if their state has one and if so, what it is. What other things--flowers, insects, trees,
songs--are recognized by their state? Invite the kids to select another symbol they think
merits recognition, then write a proposal to their state representative."
1937 Sylvan N. Goldman began supplying Grocery Carts to his
Oklahoma City supermarket customers.
Book (1) writes in "Checkout challenge-If there were no grocery carts, how would people get
their groceries to the checkout counter? Challenge your (children) to work ...to invent a new
way to transport groceries. Have the (children) illustrate their inventions, Then explain how
their devices would work."
1957 The First National Wheelchair Games were held on Long Island in New York.
1984 University of California scientists announced that they had
successfully cloned cells from the skin of a guagga, a zebra like
African mammal extinct for more than 100 years.
1989 Chinese soldiers broke up an extended, student-led pro democracy
demonstration in Beijing's Tiananmen Square. The deaths were believed
to number in the thousands.
June 5th has three birthdays as follows:
1718 Thomas Chippendale, English cabinetmaker
1723 Adam Smith, Scottish political philosopher who helped
lay the intellectual foundations of capitalism.
1919 Richard Scarry, children's author and illustrator
The Events for June 5 are as follows:
1783 Joseph and Jacques Montgolfier first demonstrated their
Hot-Air Balloon in a 10-minute, unmanned flight over Annoney, France.
Book (1) says in "Awe-inspiring flight--The balloon created by Joseph and Jacques Montgolfier
measured over 35 feet in diameter. It was made from paper-lined sections of linen, which were
joined together with buttons. Hot air for the balloon came from wood burned in a hole in the
ground. The balloon was held over the hole by eight men. When it was released, it rose 6,000
feet and traveled 1 1/2 miles before coming down. Remind your (children) that this flight took
place over 200 years ago. Then ask them to imagine what people viewing this spectacle might
have been thinking. Were they afraid? Excited? have your (children) write stories about the
balloon flight from the perspective of a long-ago spectator."
1876 Bananas were sold for 10¢ each at the Philadelphia Centennial Exposition
Before then, the fruit had rarely been seen in the United States.
Book (1) states in "Banana Bonanza-Tell your (children) that bananas contain important
nutrients, such as potassium, carbohydrates, and vitamins A,B, and C. Ask the children
to describe the ways they like to eat bananas. Then have them create posters encouraging
people to eat more of this healthful fruit.
Book (57) of Grandma's has a section called "Going Bananas by Gail K Lennon" in which 
it states the following: "The activities outlined in this unit can be set up as centers in an
integrated, activity-based theme on bananas. The study begins with a whole-group orientation
activity. This allows (the children) to share what they already know about the theme. It also
builds interest and motivation for the study.
The learning objectives for the theme on bananas are as follows:
to practice listening, reading, writing, speaking, viewing, and presenting skills
to discover more about everyday things and how these relate to our life
to increase cooperative skills through working together
to improve writing and research skills
to nurture students' talents in the various areas of the arts
Before (the children) begin their work ..., (they should) overview the topic and to provide motivation
for the unit ahead. You might want to share a short film on banana growing (
Growing Bananas
),
 taste a banana dish, and find out what (the children) already know about bananas.
Some of the facts they may already know include:
Bananas are good for you
Bananas are grown in tropical climates.
Bananas grow in large bunches, and they grow up, not down.
Bananas grow on palm trees.
Bananas form the basis for some tropical diets.
Bananas can sometimes be used as a substitute for other foods which are difficult to
     digest such as dairy products."
The children may have to move from different centers or areas of the home to carry out the
work of this unit. Be willing to observe, clarify material, give encouragement and direction to
lead the children on on with their learning and help all you can.
Center 1:How do they Grow? Upon watch the video answer the following questions
Appendix A: Study Outline
Banana Growing Locations:
1.
2.
3.
Climate Conditions Necessary for Growing:
1.
2.
3
4.
5.
Banana Markets:
1.
2.
3.
4.
5.
New Banana Types:
1.
2.
Plantation Jobs:
1.
2.
3.
4.
5.
Problems involved in Banana Growing:
1.
2.
3.
Then have them work...to discuss and reach a consensus on the best way to show what
they have learned about growing bananas. You may want to provide a list of methods for
them to use....At the center children could select from...murals,accordion books, big books,
poetry,plays, comic strips, charts, and diagrams.
Center 2: Banana Extravaganza
Provide cookbooks and other materials for 9the children) to use to create a collection of
banana recipes. They can create a big book in which they each write a recipe and illustrate
their dish....the recipes created at this center can be sent to the Banana Growers'
Association,...taste during the finale!
Center 3:A Banana a Day Keeps the Doctor Away
(The children) can use health books, medical journals,and other sources(as computers) to
discover the health benefits of bananas. They design pamphlets or posters about the
nutritional advantages of bananas. Display completed pamphlets and posters ... and
send them to the Banana Growers' Association.
Center 4: Banana Bulletin
(The children) use research materials at this center to locate banana trivia facts. When they
have collected at least ten each...create a game using these facts. Provide examples of paper
and pencil games, card games, and board games to give students ideams....Product
alternatives include: board games, paper and pencil games, riddle collections, card games,
word games such as Boggle™ or Scrabble™, charades, and combinations of other formats.
Center 5: Banana Cabana
Give (the children) examples of word games such as Boggle™ ,Hink Pink™ , Change a Word,
Transform a Word, and Rhyme Time™ . They can create their own word games using the
word banana. Completed copies of these games can be duplicated  for a newspaper r or
traded...(Children) have great fun solving these word puzzles.
Center 6: Famous Banana Gourmets
(The children) can investigate literature on Curious George, King Kong,Chita, and other banana
gourmands. They can work ...to create a banana-loving protagonist and write a story, picture
book, or comic about their banana fanatic.
Center 7: Where Do They Grow?
(The children can use atlases, films, and geographic materials to discover where bananas grow.
They can then create maps and charts to show the climate, soil, temperature, and growing
conditions necessary for bananas. At the conclusion of the unit, conduct a whole-group
discussion to explore these conditions. Follow-up questions can be directed to horticultural
specialists at a local university or extension service.
Center 8: Life on a Banana plantation
(The children) examine film, book, and pamphlet materials to discover the various jobs
on a plantation. Through diagrams and dramatic presentations they can share ...
Center 9:I'm Chiquita™ banana TV ad. They They can work ... to create a banana-selling
personality and advertisizing jingle. Completed versions can be videotaped ... . (The
children) can examine advertising techniques and discuss which ones have been used 
to make each ad. ...
Appendix B: Advertising Techniques
Bandwagon Approach: Everybody else is doing it.
Famous Name Sponsorship: Wayne Gretzky says bananas are good for you.
Snob  Appeal: They're more expensive but you are worth it!
Old Boy's Approach: The fruit Uncle Charlie was raised on!
Logic: Bananas are so good for you. Why would you ever consider missing out on
      all this healthy food?
 6.   Bargain: Great Sale! Hurry before the sale ends.
 7.   Keeping up with the Jones': Be the first on your block to taste this new product!
Center 10: My appealing life as a Banana
(The children) can work ...to complete the following story. When their first drafts are written,
they can work ...to edit and complete published editions of their stories. Best efforts can be
published in the ...(family) newspaper.
Story Starter: "Hi, my name is _____Banana. You're probably thinking how boring my life as
a banana must be. Well, stop feeling sorry for me. I've had more adventures than you will ever
see in your lifetime. Let me tell you about one particularly exciting one..."
Center 11: Banana By-Products
What else are all those bananas used for? Are they all eaten raw? Students can use
newspaper clippings, other written accounts, and films to find out about banana by-products. 
(They) can create a chart or poster to show their information.
Finally, (they) can work ...to create a list of other possible future banana by-products.
Some ideas might include automobile fuel, cosmetics, and money substitutes.
The Finale: Banana Bonanza!
During the finale of this unit, (the children) can share the results of their work at the various
centers. This can take the form of displays, presentations, and rotating sharing discussions.
Have (the children) learn "The Banana Boat Song" and discuss the difficulties of bringing
bananas to our stores. Through discussion, (the children) will gain an appreciation for the
interdependence of our countries and our existence as part of a global village. As a final
shared activity, students can work ...to create poems based on the pattern of the color poem
"Red is..." but using the little "Yellow is a Ripe Banana."  
Going back to our Calendar History of June 5 as follows:
1910 The First Hot-Air Balloon Race was held in Indianapolis, Ind.
1917 More than 9 Million American Men began registering for the
draft during World War I.
1968 Moments after addressing supporters celebrating his victory
in the California Democratic presidential primary, Senator Robert F.
Kennedy was Shot in a Los Angeles hotel. He died the next day. 
1988 The Sixth Grade Center in University City, Mo., was
renamed the Ronald E. McNair School in honor of one of the
astronauts killed in the Challenger explosion.
Book (1) brings in "Honoring a hero-Students, staff, and parents in University City, Mo., decided to
rename their school after Dr. Ronald E. McNair because they though his adventuresome
spirit and diversified interests--including scuba diving, karate, gourmet cooking, and
jazz--would inspire students to take risks and explore untapped talents. What people
would your (children) consider honoring if their ( Church) needed a new name? What special
qualities would they look for in an honoree? Have (the children) work ...to discuss these
questions, then present their ideas to (you).
1989 In Poland's first free elections since World War II, the
Solidarity Party was a decisive majority.
June 5 is also World Environment Day 
                                                                                                                                                                                                                                                                                                                                                                                                                                                                                                                                                                                                                                                                                                                                                                                                                                                                                                                                                                                                                                                                                                                                                                                                                                                                                                                                                                                                                                                                                                                                                                                                                                                                                                                                                                                                                                                                                                                                                                                                                      ...
Hello Folks! Grandma has two last books on South America to cover with you. The second one has Arpilleras to make and I obtained a film about them. So link to
Arpilleras Information
and make one yourself if you wish.
The first book to read is called LLama and the Great Flood: A Folktale From Peru by Ellen Alexander,New York: Thomas Y Crowell, 1989 about the country Peru.
"Summary:
The llama warns his master of a forthcoming flood and saves the family by taking them to a high peak in the Andes Mountains.
Activities
Find out more about the llama. List at least five ways this animal is useful to the Indians who live in the Andes Mountains.
The Inca Indians, as pictured in the book, produced beautiful crafts. Most of these crafts were used in their day-to-day life. Make an example of an Inca craft and tell how the Incas would have used it.(Cardboard looms can be used for weaving.)
The Andes Mountains are the longest chain of mountains above sea level in the world. They include many land forms, natural resources, and animals. Travel through the mountains is often difficult. Research one of the following topics as it relates to the Andes and write a short paragraph. Make a ... booklet about the Andes Mountains.
                               a. glaciers
                               b. lakes
                               c. rivers
                               d. natural resources
                               e. types of transportation
                               f. alpaca
                               g. chinchilla
                               h. condor
                               i. huemul
                               j. llama
 4.   The Incas tied colorful yarn containing special herbs to the ears of the llama. They believed that
       this would keep the animal healthy and protect its owner. Although there is no written record of
       this, perhaps the ties were also used for identification. List animals on which we place markings of
       identification. Describe the methods used to mark the animals.
  5.   Read more Indians of Peru. Compare them to their ancestors.
The next story is about Arpilleras which I have given you a link up above, but Book (6) that this story came out of showed a simple Arpillera with a quilted felt tree and stump with leaves and a puffed flower are made for it. You can do this simple Arpilleras if you wish or you can do any of the ones the film shows.The book is called Tonight is Carnaval by Arthur Dorros (Dutton Children's Books, 1991, 24 pp.)
This upbeat book, about a Peruvian child anxiously awaiting Carnaval, is warmly illustrated with a series of folk-art quilts known as arpilleras. The story line introduces young readers to a slice of life in the Andes Mountains. An overview of a typically difficult work day is softened by the optimism of the colorful arpilleras--and by the promise of the Carnaval celebration to come!
Before Reading Tonight is Carnaval
Locate Peru on a topographical map. Help the children notice that much of Peru is located in the Andes Mountains. Use an encyclopedia to share pictures of Peru and the Andes with the class. Tell the (children) that they are going to hear a story that tells of a typical day for the Peruvians who live in the mountains-and of a special celebration that the people are looking forward to.
After Reading Tonight is Carnaval
Ask the children to describe, in their own words, what life in the Andes must be like. Explain that Carnaval is one of the few celebrations that these hard-working people take part in. Ask the children if any of them would trade their lives for the way of life described in the story. Do the (children)believe that the people of Peru would want to change places with them? Why or why not? (Remind (the children) that, despite the amount of work he is expected to do, the young narrator of the book does not sound unhappy about his life.)
Follow-up Activities
Appreciate Arpilleras
The quilts known as arpilleras, which are used to illustrate Carnaval, help readers understand the Peruvian way of life by offering a look at a popular regional folk-art form. Have children look at the photographs of the arpillera-makers quilting the wall-hangings together. Have them notice the modest workroom where the quilters are working, as well as the photograph of the woman working with her baby slung on her back. Read the photo captions to the class. Then, take a second look at each of the arpilleras used to illustrate the book. List all of the elements in each of the illustrations that tell us a bit about life in Peru (e.g., type of animals, work, instruments, terrain, vehicles, plants, etc.). Remind the children that any art form draws from the experience of the artists. Since arpilleras are popular decorating items, it may be possible to locate a real arpillera to share with the (children). (Try borrowing one from a parent, a colleague, or a local shop).
Explore Folk Instruments
The narrator of the book looks forward to playing his quena (a reed flute) in the Carnaval band. ...(See if you can obtain a visit somewhere to see such instruments as a reed instrument, a wind instrument and a percussion instrument). Why do the children believe the folk instruments of Peru are made of different materials than the instruments we are most familiar with? Your local record store may be able to help you select recordings of traditional Peruvian music you can (listen to).
Till tomorrow-Grandma is going to bed.
Another lessons!  For this day Grandma is going to give you something on South America and an extra treat with the Video to end the season. Link to
South America
plus more.
From Grandma's book (2) it says, "South America is the fourth-largest continent. It is surrounded mostly by water. Only a narrow strip of land connects the continents of South America and North America. The Caribbean Sea is located to the north of the continent. The Atlantic Ocean lies on the east, the Pacific Ocean lies on the west, and the Drake Passage separates South America from Antarctica on the south. The landscape of this continent, which consists of 12 independent nations, includes the snow-peaked mountains of the Andes, and one of the world's driest deserts, the Atacama. Most of the people live near the coastlines. The fishing industry is very important along the coasts of Chile and Peru. Spanish is the official language of South America; however, Portuguese is spoken in Brazil. The countries of Argentina, Brazil, Uruguay, and Venezuela have the most highly developed economies. Three main land regions cover the continent.
The Andes Mountains, the longest visible mountain range in the world, cover the west coast of South America from Venezuela, a petroleum-rich country, to the southern tip of the continent. Mineral deposits of copper, gold, tin, and zinc are found in the mountains. The country of Bolivia leads the world in tin mining, while Colombia produces 90% of the world's emeralds. The fertile land of the mountain slopes is also used to grow crops such as coffee beans. The region is also used to graze sheep, cattle, and llama in the countries of Peru and Chili.
The Central Plains cover almost half of the continent. They project eastward from the Andes Mountains. Grasslands called llanos cover the land in Venezuela and Colombia. Some of the largest farms in the world are located in this area. The selva, or tropical rain forest, is also located in the Central Plains. The Amazon River basin countries of Brazil, Peru, and Bolivia are located in this area. The natural environment of this area is endangered because so many of the trees are being cut down for forest products. Forest resources such as rubber trees, rosewood, mahogany, and balsa wood are also found in the Gran Chaco area. Vast grassland areas called the pampas are found in the southern regions of Argentina. This area is good for sheep and cattle. ranching. The hottest point in South America is located in this region.
The Eastern Highlands include the mountain areas to the north and south of the Amazon River. Tropical rain forests and grasslands are found in the highlands north of the Amazon. Rolling hills and flat land are located to the south. This is rich farmland. Much of the coffee grown in Brazil, "the world's coffeepot," comes from this area.
Unusual animals found in South America include the manatee, the capybara, the toucan, the flamingo, the vicuna, and the llama.
South America Countries
Independent
Argentina
Bolivia
Brazil
Chile
Colombia
Ecuador
Guyana
Paraguay
Peru
Suriname
Uruguay
Venezuela
Dependent
Falkland Islands
French Guiana
                                                   More Topics to Research
Monkey Puzzle tree                  Easter Island                            Manatee
Bullfighting                                Cape Horn                               Tapir
Gaucho                                     Cinchona tree                          Forest products of
Pan American                            Cocoa tree                                   Brazil
    Highway                                 Vicuña                                    Brazilwood
Pelé                                           Coffee bean                             Andes Mountains
Llama                                             processing                          Sugar Loaf Mountain
Rubber production                       Strait of Magellan                     Tierra del Fuego
Amazon River                              Inca Indians                     
Angel Falls                                  Lake Titicaca
School Days
The educational requirements of young people are different in other countries. Select one of the countries in South America, and read about the education of its children Using two gelatin boxes, make a puppet dressed in the traditional clothing of that country. Prepare a monologue for your puppet about the education in the country, and present your findings... .
How to Make the Puppet:
Take 2 small gelatin boxes, and cut off the flaps of one end of each box.
Apply glue to the box. Using a strip of paper 2 3/4" wide by 7 3/4 long, wrap the box from the top edge of the open end, over the box, and continuing to the bottom of the open end. Leave the open end uncovered.
Use a strip of paper 3 1/4" wide by 6 1/2 long to cover the remaining sides of the box (wrapping it the other direction.
Repeat steps #2 and #3 on the second box.
Hinge the two boxes together using tape on the open edges.
Decorate the (boxes as the) head.
Finally, design a body dressed in traditional clothing, and tape it under the head.
Fact-Finding Festival
Long ago the people of South America made beautiful masks from thin sheets of gold. The masks were worn during ceremonies and festivals. Compile a "shape" booklet of facts about one of the countries of South America. Cut the pages (at least eight of them) in the shape of (a) mask ... . Staple the pages together, Using the encyclopedia, locate an article about the country. List facts about each of the topics listed below. Use one page of the booklet for each topic. Cut out the cover from the" (shape of the pages). "Decorate the cover... using pieces of colored paper, feathers, or other materials... .
   I. Brief facts
      A. The capital city
      B. The population
      C. The chief products
      D. The basic unit of money
  II. The people
 III. The land (include weather information)
 IV.The government
 V. Occupations
Having a Great Time...Wish You Were Here"
Design a post card for a friend by coloring a scene on one side with colored pencils and writing a note on the left side of the opposite side of the post card and addressing it to them. Design a stamp with an animal of the country.
"Fun In The Sun
People in most countries enjoy having fun during their leisure time. Some people prefer to participate in various types of outdoor activities, while others choose to be spectators of different events.
Select a South American country. Read about its recreational activities, sports, and ways of life. Sometimes the climate and land regions are clues to the different outdoor events that take place in the country.
Using a small box lid for your display, design a billboard to advertise a form of recreation in the South American country that you chose." Display it if you wish somewhere.
"Products of South America"
Trace a map of South America, color it, and glue it on colored paper. Find pictures of or draw and color at least five different products of South America that can be cut out and glued on to the page or the map. You can include a pictorial legend to identify the products on the side or bottom of the page.
"Animals, Animals, Everywhere
Although there are many types of animals, most require specific conditions in order to survive. Climate and geography are two factors that play a key role in forming an animal's habitat.
Select a book about any animal. After reading the book, read about the same animal in the encyclopedia. List three facts that you learned about the animal from the encyclopedia article that Were Not in the book.
Name of book:____________________________________________________________________
Author:__________________________________________________________________________
Type of animal:____________________________________________________________________
This animal would most likely be found on the continent of _________________________________
_________________________________________________________________________________
Additional facts learned about this animal from the Encyclopedia
   1._____________________________________________________________________________
      _____________________________________________________________________________
   2._____________________________________________________________________________
      ______________________________________________________________________________
   3.______________________________________________________________________________
      ______________________________________________________________________________

Good Morning! Grandma is going to be very busy the next few days giving you materials to finish lessons with. To begin with Grandma will give you the rest of
Little House on the Prairie
and move into The
Gift of the Sacred Dog, Three Names, and Stone Fox
from the Geography book. Then Grandma will give you some on South America and finish the Bible. She will also give you the months September, October, November, December for 1800's and 1900's. Then January and February for the 1900's. She will fit in 6 experiments for each of the days. This will all be given by the end of the week if I have no more disasters.
The first exercise sheet to be done for Little House on the Prairie from Grandma's book (185) is called Medal of Honor. It has a medal on a ribbon formed in a square holding these fill in sentences. It says "There are many heroes in this story. Tell who does each brave thing below by writing Ma, Pa, Laura, or Jack in the blank." It has pictures of them under the ribbon square. They are also suppose to write about what Mr. Edwards does that is brave.
                       1.______________________leads the ponies across the creek.
                       2. _____________________drives the wagon across the creek.
                       3. ______________________almost drowns, but finds the family.
                       4. ______________________puts out the fire in the chimney.
                       5. ______________________pulls Mary and Baby Carrie away from the fire.
                       6. ______________________saves Mr. Scott's life.
                       7. ______________________gets water for Mary when she is very sick.
The next exercise activity is called Pioneer Words. It says, "Complete each sentence by filling in the (crossword) puzzle with items that were used by the pioneers. The words in the log (Grandma has at the top of this page) might help you. (The Crossword puzzle is placed in a log house.)
                  panniken                            sills                            bedstead
          petticoat                   latch                       pegs                           windlass
Across
2. (8 letters) Pa builds a ____where
   he and Ma sleep.
5. (5 letters starting at the third letter of
    3 down and goes through 1 down on the
    fourth letter) Pa makes a _____to keep
    the door closed.
6. (8 letters and starts down further under
    the 2nd question the 5 letter of 4 down,
    that starts 1 square space below the
    line of 2 across. 6 also goes through
    the 8th letter of 1 down. It is also
    running past 3 down 1 square space
    above it.) Pa lowers buckets into the
    well on a _______.
7. (4 letters long running through the
     seventh letter of 4 down.) Instead
     of nails, Pa uses wooden ______.
Down
1. (Starts a square above 2 across and
     goes 6th letter of word 2. It is nine
     letters long and goes through 5 across
     on 5's 3rd letter as well as 6's 6th
     letter.) Laura wears a _____ under her
     dress.
3. (Starts on the 4th letter of 2 and goes
     through the first letter of 5 across. It is
     5 letters long.) Pa starts building the
     house with two big logs called ______.
4. (Starts a square space below the 2nd
     letter of 2 across. Its 5th letter goes
     through 6 across on 6's 2nd letter.
     4 down is 8 letters long.) Ma keeps
     soap in a wooden box called a ______.
It asks, "What does Ma use to iron the girls' dresses?"_____________________________________
The next exercise page is called Animals of the Prairie. Laura and Mary love to watch the animals
that live on the prairie. Label each animal that the girls see. Choose from the names in the box."
(Grandma gives them at the top of this page. Below the words are pictures of the animals they have
seen. Maybe the children can take the words given to them and draw pictures of each one.)
                  mustang                    gophers                      wolf
     jack rabbit                    fawn                      panther
"What bird says good-bye to Laura and her family when they leave the prairie?
The Next exercise page is called Happy Times. The page has a picture of a milking cow kicking Pa.
The next picture on the other side of the page halfway down shows the family watching and Pa playing fiddle to someone dancing. The last picture back to the left side in the bottom corner is of a silver cup, tow cookies, jelly beans, and candy canes. The children are to tell about the happy things that happened to Laura and her family on the prairie.
The last exercise page in Grandma's book (185) is called a Daily Journal. The children are to pretend they are crossing the prairie, like Laura, in a covered wagon. They are to write a page in their journal, telling about what happens in a day either from the book or a made-up event of their own.
It also says to write why Laura feels sad to leave the little house, but she is also excited.
Book (185) has some Art Activities called Homemade Fun. It says, "The only toys pioneer children had to play with were toys they made themselves, like Laura's and Mary's rag dolls. In keeping with the spirit of long ago, invite students to make their own toys, too, (as a rag doll).
"Homemade Yo-Yo...
You Need: empty thread spools; medium-sized pieces of string, 2 1/2 feet long; lids from cottage-cheese or yogurt containers."
For each yo-yo use a spool, a piece of string, and two lids.
Show how to thread one end of the string through the spool and then to tie it to the string.
Wrap the string once around the spool and tie it tightly in the same place where they made the first knot.
Tie a loop for their fingers in the other end of the string. Then wrap the rest of the string around the spool.
Decorate the two lids the way they want them with markers, glued pieces of paper, shapes, characters, stickers, etc. Then glue the two lids to the ends of the spools.
"Button-and-String Game. Challenge (the children) to see how long they can make their buttons spin.
You need: large two-holed buttons; string
Give each (child) a string, about 30 inches long, and a button.
Tell (the children) to thread one end of the string through one hole of the button, and the other end through the other button hole. Then tie the ends together.
Show the (children) how to play the button-and-string game. Put your fingers through the string so that it is taut with the button in the middle. Wind up the string by swinging it toward you in a circular motion about 25 times. When you pull your hands apart, the button will spin on the twisted string. Move your hands in and out with the rhythm of the twisting string to keep the button spinning.
Button-in-the-Cup The following homemade toy will challenge (the children) hand-eye coordination.
You Need: string; wooden clothespins; buttons; tacks; egg cartons; paints and brushes
Cut the egg cartons into separate cups. Give each (child) one egg-carton cup, one clothespin, one button, and one piece of string, about 12 inches long.
Show students how to tie one end of the string around the top of the clothespin.
Have (the children) thread the other end of the string through the button hole and tie a knot.
Let (the children) paint their egg-carton cups. When the cups are dry, help each (child) tack the bottom of the cup to the top of the clothespin.
Show the (children) how to play the game. Holding the clothespin, swing the button and try to catch it in the egg-carton cup."
The next page of activities in Grandma's book is for Cooperative Learning Activities working as groups. Grandma is going to give it  a little twist. One thing this page points out is how hard it was for the natives and the pioneers to communicate. Many men were as stubborn as some men are today. There was a scene in the book upon which a Native had killed a panther and he was trying to explain to Pa how he had shot it from sitting in a tree the night before. The Native and Pa had to do a lot of sign language and acting to convey the message to each other. Book (185) want the children to act out a message much in the same way. In order to be true have them write it on a card and turn it upside down on a table near them. Then they are to act out the message and see if the rest of the audience can get the message. Much like charades.
Next For the first part, Grandma wants the children to think of some ways they can trade off work with others around them, have contact with, or know. They are also to think of areas they have trouble learning and find others that can help them with that work. This will probably take some initiative from the children to talk to others the same as Pa did to trade work with Mr. Edwards and Mr. Scott. Many things like building a barn and having a barn building day were done the same way. Branding and haying are still done today much the same way. Somethings just take more than one person. The village my husband was from did much of this for the yearly festival in December, they share one tractor among them and help others in many ways. When we were there for a couple of days a woman had a heart attack and the village arranged for us to take her to the hospital. The people were all grateful and all participated to carry her to the car.
The next page is a Graph Activity/Curriculum Connections page called Have a Nice Day
(Grandma plans most of what she does in this same way or sets up schedules for herself even if they never turn out the same. It helps her regulate her goals.) Talk about the ways you and your children spend their days. Write down the amount of time spent at each task, lesson, activity, whatever, it is you do in the day. Knowing there are 24 hours in the day try to think how you spend each hour of that day doing; be sure to include sleep; cut it where is necessary and add where is necessary to make 24 hours a day. It helps organize your day in your head and where the next day will go. Next draw a large circle on the side of a box or poster and divide the circle into 24 pieces. Explain to the children how this is a what they call a Circle Graph and put the amount of time divided in the 24 pieces by the pieces as 1 hour each. Therefore, if one study is 2 hours long mark the area on the pieces(2) as that. Later you can cover it with pictures if you wish of each doings of time. Mark it "What a Day!"
Next with the Circle Chart do the same with Laura of Little House on the Prairie. Figure out what they spent their day doing and chart it on a separate Circle Graph. Talk about the differences then talk about how time might be for children in the future especially since they are integrating computer learning into classrooms and at home now.
Another section of the page talks about learning manners in the time of the pioneers. Learning may not have been as much fun as with the Ingalls. Many homes of those times and before times may have been pretty cruel that Grandma does not want to talk about and leave it in the past. However, do talk about the manners of napkins, sitting up straight, walking without slouching, using silverware (which some homes still had none of, licking the fingers, talking with the mouth full, contradicting, speaking unless you are spoken to, etiquette, speaking too loud or speaking out, etc. Talk about how they may have been taught and how they are taught today. Talk about the importance. Grandma had learned in her school work that some parents can be too strict and create some imbalances or mental blocks, but some children can have no direction and that is worse for them. That it is better to teach that there is consequences to every action, not necessarily discipline by parents but things that actually do happen; like having to pay for a window broken, which is better if it is not taught with the ill thoughts of mankind. I hope you agree. Happy homes make happy people that is for sure, just don't lack in any direction at all. Some of these learnings may be found out by talking to older people you know.
The last page in book (185) is a Summarizing/Curriculum Connections page of Extended Activities
One Day at a Time Summarize the story Little House on the Prairie in which the Ingalls family started with a wagon and before the end of the book Pa has built a house with a door, a fireplace, a wood floor, a bedstead, and a rocking chair. He built a stable and dug a well, and the family had planted a vegetable garden. Make a special time line to show this where all they have at the end is the wagon again.
"Social Studies: Where in the World? To identify the setting of Little House on the Prairie, help (the children) locate the places from the book on a map of the United States. Have students take turns finding Wisconsin, Iowa, Missouri, Kansas, and Oklahoma, then trace the Verdigris River through southeastern Kansas to where it flows into the Arkansas River near Muskogee in eastern Oklahoma.
Black American Pioneers The Black American West Museum in Denver, Colorado, documents the rich heritage of black men and women in the American pioneer movement, including law officers, stagecoach driver, miners, editors, farmers, and cowboys. A catalogue of books and materials is available from the Black American West Museum, 3091 California Street(if it has not changed) Denver, Colorado, 80205; telephone number (303) 292-2566(which probably has changed)."
Health: A Balanced Diet Make a chart of food the Ingalls family ate and compare it to a record of good food to eat. Book (185) says they ate Grains of cornbread(and they probably ate some oatmeal and grits as well as pancakes and musk, breads of different grains and fruits as berries found in the woods and in the prairie; Dairy-milk, cheeses as cottage cheese. butter from buttermilk; Meat-rabbit, prairie hen, beef(pretty rare, fish, chickens, and especially eggs as well as beans, maybe pork or bacon if lucky, duck more likely, lots of turkey, maybe buffalo or bear. probably some dear if lucky, and lamb if really lucky. Fresh vegetables were grown if they were lucky to get the seed. They could grow plenty of potatoes, peas, chickpeas and Garbanzo beans, beats, corn, spinach, okra, tomatoes, carrots all of which could be canned. Berries, watermelons, pumpkins, cantaloupe, and grapes could all be cooked and canned also. There was no place cold but a possible cellar, cool streams, or the winter to freeze things. Some people had smoke houses to salt and smoke meat to keep it. They had to use milk and such products fast so they did not spoil. The vitamins in things were probably better than today."
"Science: Take Your Medicine ...the real name of the sickness called "fever 'n ague" is malaria. ...the bitter medicine Laura has to take is called quinine. Invite (the children) to look up malaria in the encyclopedia to find out more about how it is caused and cured." Talk to the children about some of the medicine of those times compared to the medicines they take to day. Grandma has cleared her ear infections with peroxide, but her mother had bad earaches when young that her grandmother cured with hot oil and it worked. We used olive oil which has many cures in Grandma's ears and it cured them this year and it has not come back again. We have taken curry for the sinuses and it has helped. Turmeric is suppose to help arthritis but I have yet to try enough. Some home remedies were good and maybe some were not good enough. Who is to say. Grandma has yet to learn.
The Science experiments from Grandma's book (12) are about Evaporation and Vaporization. The first experiment is called Jet boat. Bore a hole from the inside through the screw top of an aluminum pill tube about four inches long, and pour some water into the tube.( They may not make these any more, check with the pharmacy.) Fix the tube in an empty sardine can into which you have fixed three candle stumps and place the can in water. If you light the candles the water soon boils, and the jet of steam escaping from the back drives the boat.
Steam is formed in the boat's boiler when the water boils. Because it expands sharply, it escapes at high pressure through the nozzle and causes a recoil. Do the experiment in calm weather!
The next experiment is called Hovercraft. Place a tin lid on a hot-plate and heat it well (take care!). If you then let a few drops of water fall on the lid, you will observe a small natural phenomenon. The drops are suspended in the air like hovercraft and whiz hissing to and fro for a while.
On contact with the heated metal the water drops begin to evaporate at once on the underside. Since the steam escapes with great pressure, it lifts the drops into the air. So much heat is removed from the drops by the formation of steam that they do not even boil.
The next experiment is called Rain in the room. Rain after sultry days makes the inside of the window pane suddenly sweat. You can distinguish the tiny water droplets through a magnifying glass. Where do they come from?
After it has been raining the air outside cools sharply because the water evaporates and thus uses heat. The warm air in the room, which is saturated with water vapor, especially from cooking, cools down only slowly on the window pane. But cold air cannot hold so much moisture as w
arm air, and therefore loses some of it on to the pane. It forms water droplets-exactly as when it is raining out-of-doors and moist, warm air meets cold air.
The next experiment is called Weather station. Fix a dry pine cone on to a small piece of wood with sealing wax or glue. Stick a pin into one of the central scales and place a straw over it. Put the cone out-of-doors, protected from the rain. The straw moves according to the state of the weather. Fix up a scale.
This simple hygrometer was built by nature. The pine cone closes when it is going to rain, to protect the seeds from damp. The outside of the scales absorbs the moisture in the air, swells up and bends--a process which you can also observe with a piece of paper which is wet on one side.
This next doings is called a Hygrometer. Coat a strip of writing paper two inches long with glue and roll it onto a sewing needle. Stick a strip of shiny photographic paper about 1/2 inch wide and one foot long onto its end so that its shiny surface faces the glue-covered side of the writing paper. The film strip is rolled round the needle like a clock spring. Punch a small hole through the middle of the bottom and lid of a furniture polish tin, and also air holes in the bottom. File off the metal projections formed. Push the needle through the central holes and stick the end of the film strip firmly to the side of the tin. Fix a paper pointer in front of the needle with a cork disk, and a bead behind it.
The gelatin layer of the photographic film expands-in contrast to the paper layer-with increased air humidity, causing it to wind up sharply, and move the pointer to the right. When the humidity of the air falls, the pointer returns to the left.
The next experiment is called Water from the desert. We still read in the newspapers of people dying of thirst in the desert, but many of them cold help themselves in this emergency. An experiment on a small scale in a sand box will show you how to do it. Dig a fairly deep hole and place a beaker in the middle. Spread a suitably sized piece of transparent plastic foil over the edge of the hole and lay a small stone in its center so that it dips down to the beaker in the shape of a funnel. The edges are fixed firmly into the sand. Soon, especially in sunshine, small drops of water form on the underside of the foil. They become larger and larger and finally flow into the beaker.
The effect of the sun is to heat the ground strongly under the foil. The moisture held in the sand evaporates until the enclosed air is so saturated that small drops of water are deposited on the cooler foil. Even desert sand contains some moisture. If you also place cut up cactus plants into the hole, you will obtain enough water to survive.(When Grandma was young we had a neighbor who had been a farmer show us how to take a V-shaped branch and holding it straight forward would bend down where water could be found to build a well. It was really neat.)
The next experiment is called Bath game with a coin. Stretch a strip of cellophane (not plastic foil), 1 inch wide, tightly over a soup plate and fasten the ends with adhesive tape. Lay on the middle of the strip an average-sized coin and pour water into the dish up to about 1/2 inch under the coin. The coin sinks slowly and reaches the water after several minutes.
The water vaporizes, the cellophane absorbs the water particles from the air and expands until it reaches the water. But strangely enough it soon begins to tighten again, and the coin rises again slowly to its original position.

The last experiment in this section is called Steam boat. Break off the head of a match and drop some glue on to the end. If you place the match in a dish of water it moves jerkily forward.
The glue contains a solvent which evaporates to give a vapor. It puffs out from the drop in invisible little clouds, giving the match a small push each time. Eventually so much of the solvent has escaped that the glue becomes solid. In a dried drop of glue you can still see the residual solvent vapor as small bubbles.

Last for this day given will be the Calendar History for two days of May. May 22, 1783 William Sturgeon, English inventor who devised the electromagnet, was born. In 1813 Richard Wagner, German composer, was born. In 1844 Mary Cassatt, American painter, was born. Impressionist artist Mary Cassatt is best known for her paintings of family life. Show students reproductions of her artwork. Then ask them to design and color updates of these pictures, using today's fashions and their own family activities.
In 1859 Sir Arthur Conan Dayle, British author and creator of Sherlock Holmes, was born. Book (1) says,"Celebrate the birthday of Sir Arthur Conan Doyle by having (the children) conduct a week long search for traces of Doyle's most famous character--Sherlock Holmes--in books, newspapers, television programs, films, magazines, and so on. At the end of the week, the (children) can share their evidence of Holmes's pervasive influence in daily life.
In 1907 Sir Lawrence Olivier, English actor, was born. In 1933 Arnold Lobel, children's author and illustrator was born. Book (1) explains, "In honor of Arnold Lobel's birthday, read aloud a story about two of his well-known characters, Frog and Toad. Afterward, pass around the book so students can become familiar with these characters. Then encourage the children to generate questions about the lives of Frog and Toad. For example: What happened before the story began? What will happen after the story ends? Do Frog and Toad have brothers or sisters? Do they have other friends? After the children have developed a list, ask them each to select a question they'd like to answer. Then have them create stories that answer the questions. Encourage the students to role-play their stories or to write and illustrate them.
It is International Pickle Day on May 22.(There is nothing like experiencing a large pickle to eat.) Book (1) says, "On International Pickle Day, tell your (children) that the word pickle can be used as a noun or a verb. Together, come up with example sentences. Then challenge the kids to list other words that can be used as either nouns or verbs. It is also National Maritime Day on that day.
In 1570 The Flemish cartographer Abraham Ortelius published the First Modern Atlas. In 1819 The First Steamship crossing of the Atlantic was completed. In 1900 E.S. Votey obtained a patent for the First Pneumatic Piano Player. In 1906 Orville and Wilbur Wright received the First Airplane Patent. In 1972 President Richard Nixon became the First U.S. President to Visit Moscow. In 1980 Joe Hernandez did 135 Consecutive Chin-Ups with no breaks in Cashion, Ariz.
We will start on another Day as soon as Grandma sweeps the floor and does some dishes.
Good Morning! Grandma is a little oozy from a bout with fever and chills along with constant sleep yesterday afternoon and into the morning. Not sure if it was from cleaning a dusty basement or something Grandma got else wise. I do not anymore of it for sure.
Grandma is going to start with the Calendar History, then do some science experiments, and start on some more things about the pioneers with one story possible.
May 20, 1851 Emile Berliner, American inventor of the flat-disk phonograph record, was born. Book (1) says, "In honor of American inventor Emile Berliner, have a contest to tap the ingenuity of the "inventors" ... .Ask your ... Librarian to collect books on inventors and inventions. (Grandma believes the video she placed on her one blog tells a lot also. Good prospects include The World Almanac Book of Inventions by Valerie-Anne Giscard d'Estaing and Steve Caney's Invention Book. Have the kids review the books for insights into how inventors came up with their ideas and produced their products. Then challenge (the children) to design and name an invention that would solve an everyday problem. Award small prizes in several categories--for example, wackiest, most futuristic, most sensible. (etc.)
In 1935 Carol Carrick, children's author, was born. In 1940 Sadaharu Oh, Japanese baseball player who hit more than 800 career home runs, was born.
In 1781 Thomas Hutchins was appointed the First Geographer of the United States. In 1862 President Lincoln signed the Homestead Act, which offered free land in the West to any citizen who would settle it. In 1873 Levi Strauss patented pocket pants. In 1875 The International Bureau of Weights and Measures was established. Therefore, May 20th is Weights and Measures Day. Book (1) says, "On Weights and Measures Day, use a balance scale to weigh a notebook. Record the weight ... . Challenge (the children) to find a combination of classroom objects--pencils, erasers, thumbtacks, and so on--that they think will equal the weight of the notebook. ... Weigh the collections to find out."
In 1892 George Sampson patented the Clothes Dryer. In 1927 Charles Lindbergh left New York on the First Solo Transatlantic Flight. Book (1) says, "It took Charles Lindbergh 33 1/2 hours to fly from Long Island, N.Y., to Paris, France. Have your (children) mark his route on a world map, then calculate the number of miles he flew. Next, have the kids find out how long it takes a commercial airliner to make a transatlantic flight today."

In 1928 Pride of San Joaquin won the First Calaveras County Frog Jumping Contest. In 1932 Amelia Earhart began a solo flight across the Atlantic. In 1985 The FBI broke up the infamous Walker Spy Ring with the arrests of retired naval officer John Walker and his son Michael. John Walker's brother Arthur also was later arrested.

On May 21st 1471 Albrecht Durer, German artist, was born. Book (1) says, "(Children) can celebrate the birthday of Albrecht Durer by doing their own animal observation sketches. To begin, show students examples of Durer's works, such as The Hare. Tell the children that Durer felt a true artist had only to observe nature carefully in order to capture it in art." Take a picture of a pet and observe it 20 minutes each day sketching pictures of it that can be displayed with the photo later.
In 1688 Alexander Pope, British poet, was born. In 1878 Glen Curtiss, American inventor of the seaplane, was born.
In 1881 Clara Barton founded the American Red Cross Society. In 1927 Charles Lindbergh landed at le Bourget Airport in Paris, thus completing the First Nonstop Solo Transatlantic Flight. In 1932 Amelia Earhart became the First Woman to complete a Solo Transatlantic Flight, from Newfoundland to Ireland. Book (1) says, "Tell your (children) that Amelia Earhart, achieved a number of aviation firsts in her lifetime. Before flying solo across the Atlantic, she had been the first female passenger on a transatlantic flight. She was also the first woman to fly from Honolulu to the U.S. mainland and the first woman to receive the Distinguished Flying Cross. Have your (children) each name another person--family member, friend, community member, celebrity, or sports star--who achieved an important first. Then have the kids design a medallion for that person.
In 1972 Jane Dorst of Atherton, Calif., released a Helium Balloon with her name and address inside. It was found 200 days later in Pietermaritzburg, South Africa. In 1974 The First Nuclear-powered Lighthouse began operating. In 1980 The Empire Strikes Back, the sequel to Star Wars, opened. Lastly, it is All-American Buckle-up Week. Book (1) says, "During All-American Buckle-Up Week, have your (children) create buckle-up slogans and write these on plain mailing labels." These can be stuck on various places for display, you decide where.
Grandma is now going to give you some experiments on Electricity, The last ones on Static electricity, I may have already given you but, you can have them again. These are all from Grandma's book(12). The first one is called Potato battery. Stick finger-length pieces of copper and zinc wire one at a time into a raw potato. If you hold an earphone on the wires, you will hear a distinct crackling. The noise is caused by an electric current. The potato and wires produce an electric current in the same way as a torch battery, but only a very weak one. The sap of the potato reacts with the metals in a chemical process and also produces electrical energy. We speak of a galvanic cell because the Italian doctor Galvani first observed this process in a similar experiment in 1789. Link to
Alessandra Volta
who invented the Battery.
The next experiment is called Coin current. Place several copper coins and pieces of sheet zinc of the same size alternately above one another, and between each metal pair insert a piece of blotting paper soaked in salt water. Electrical energy, which you can detect, is set free. Wind thin, covered copper wire about 50 times round a compass, and hold one of the bare ends on the last coin and one on the last zinc disk. The current causes a deflection of the compass needle.
In a similar experiment the Italian physicist Volta obtained a current. The salt solution acts on the metal like the sap in the potato in the previous experiment.
Graphite conductor is the name of the next experiment. Connect a torch bulb with a battery by means of a pair of scissors and a pencil. The bulb lights up.
From the long tongue of the battery, the negative pole, the current flows through the metal of the scissors to the lamp. It makes it glow, and flows through the graphite shaft to the positive pole of the battery. Therefore graphite is a good conductor; so much electricity flows even through a pencil "lead" on paper, that you can hear crackling in earphones.
The next experiment being called Mini-Microphone is as follows: Push two pencil leads through the short sides of a matchbox, just above the base. Scrape off some of the surface, and do the same with a shorter lead, which you lay across the top. Connect the microphone with a battery and earphone in the next room (You can take the earphone from a transistor radio.) Hold the box horizontal and speak into it. Your words can be heard clearly in the earphone.
The current flows through the graphite "leads". When you speak into the box, the base vibrates, causing pressure between the "leads". When you speak into the box, the base vibrates, causing pressure between the "leads" to alter and making the current flow unevenly. The current variations cause vibrations in the earphone.
The next experiment called Mysterious circles is as follows: Punch a length of copper wire through a piece of cardboard laid horizontally and connect the ends of the wire to a battery. Scatter iron fillings on to the cardboard and tap it lightly with your finger. The iron filings form circles round the wire. If a direct current is passed through a wire or another conductor, a magnetic field is produced round it. The experiment would not work with an alternating current, in which the direction of the current changes in rapid sequence, because the magnetic field would also be changing continuously.
The next experiment is Electro-magnet. Wind one to two yards of thin insulated wire on to an iron bolt and connect the bare ends of the wire to a battery. The bolt will attract all sorts of metal objects.
The current produces a field of force in the coil. The tiny magnet particles in the iron become arranged in an orderly manner, so that the iron has a magnetic north and south pole. If the bolt is made of soft iron, it loses its magnetism when the current is switched off, but if it is made of steel it retains it.
The next experiment is called Electro-buzzer. Nail board B (a long 1" in width the length of a square piece 5" x 5"-A) and two rectangle wooden blocks around 1/2" to 3/4" on each side about 5" long each-C and D. D has a slit in it to hold another 1/4" wide both ways-E with a little room to sway both ways. C is nailed to the long thin board B on the closet to you right corner on the edge of A square board. D is given a little more than an inch on the board. D is placed at the far end of you on the left side given that area of a little more than an inch on the square board A. The smaller but longer almost 4" board is laid in the slot of D running from the further end of you then coming toward the end next to you. Attach a bolt into a bored hole of B on the opposite end of the square board a across from the board C. (a long screw screwed into the board could work as well).Wind covered copper wire G 100 times round the bolt and connect the ends to a battery with a paper clip and respectively to H a fretsaw blade Bore into a hole of board C. H should be bored in which the other end lays close to the screw or bolt F. Hammer a long nail K through the middle of the square board A and bend it so that its point rests in the middle of the saw blade H. Oil the point of the nail. Attach a piece of beading into the inside edge of Board E laying close to C. Use a drawing pin-M on the bottom of board E that can match up to another drawing pin-N on the square board A. At he other end of board E is a rubber band-P used as a spring. Join K to M and N to a battery with a paper clip and stripped wire.
If you press the key down, you connect the electric circuit, bolt F becomes magnetic and attracts H. At this moment the circuit is broken at K and the bolt loses its magnetism. H jumps back and reconnects the current. This process is repeated so quickly that the saw blade vibrates and produces a loud buzz. If you wish to do morse signaling with two pieces of apparatus, you must use three leads as in the lower circuit diagram.
The last experiment in this section is called Light fan. Hold a light-coloured rod between your thumb and forefinger and move it quickly up and down in neon light. You do not see, as you might expect, a blurred, bright surface, but a fan with light and dark ribs.
Neon tubes contain a gas, which flashes on and off 50 times a second because of short breaks in alternating current. The moving rod is thrown alternatively into light and darkness in rapid sequence, so that it seems to move by jerks in a semi-circle. Normally the eye is too slow to notice these breaks in illumination clearly. In an electric light bulb the metal filament goes on glowing during the short breaks in current.
The next 8 experiments are around Static Electricity. The first one is called Clinging balloons. Blow up some balloons, tie them up and rub them for a short time on a woolen pullover. If you put them on the ceiling, they will remain there for hours.
The balloons become electrically charged when they are rubbed, that is, they remove minute, negatively charged particles, called electrons, from the pullover. Because electrically charged bodies attract those which are uncharged, the balloons cling to the ceiling until the charges gradually become equal. This generally takes hours in a dry atmosphere because the electrons only flow slowly into the ceiling, which is a poor conductor.
The next experiment is called Pepper and salt. Scatter some coarse salt onto the table and mix it with some ground pepper. How are you going to separate them again? Rub a plastic spoon with a woolen cloth and hold it over the mixture. The pepper jumps up to the spoon and remains sticking to it.
The plastic spoon becomes electrically charged when it is rubbed and attracts the mixture. If you do not hold the spoon too low, the pepper rises first because it is lighter than the salt. To catch the salt grains, you must hold the spoon lower.
The next experiment is called Coiled adder. Cut a spiral-shaped coil from a piece of tissue paper about 4 inches square, lay it on a tin lid and bend its head up. Rub a fountain pen vigorously with a woolen cloth and hold it over the coil. It rises like a living snake and reaches upwards
In this case the fountain pen has taken electrons from the woolen cloth and attracts the uncharged paper. On contact, the paper takes part of the electricity, but gives it up immediately to the lid, which is a good conductor. Since the paper is now uncharged again, it is again attracted, until the fountain pen has lost its charge.
The next experiment is called water bow. Once more rub a plastic spoon with a woolen cloth. Turn the water tap on gently and hold the spoon near the fine jet. At this point, the jet will be pulled towards the spoon in a bow.
The electric charge attracts the uncharged water particles. However, if the water touches the spoon, the spell is broken. Water conducts electricity and draws the charge from the spoon. Tiny water particles suspended in the air also take up electricity. Therefore experiments with static electricity always work best on clear days and in centrally heated rooms.
The next experiment is called Hostile Balloons. Blow two balloons right up and join them with string. Rub both on a woolen pullover and let them hang downwards from the string. They are not attracted, as you might expect, but float away from each other.
Both balloons have become negatively charged on rubbing because they have taken electrons from the pullover, which has now gained a positive charge. Negative and positive charges attract each other, so the balloons will stick to the pullover. Similar charges, however, repel one another, so the balloons try hard to get away from each other.
The next experiment is called Shooting puffed rice. Charge a plastic spoon with a woolen cloth and hold it over a dish containing puffed rice. The grains jump up and remain hanging on the spoon and cling to it for a time. Some of the electrons pass from the spoon into the puffed rice, until the grains and the spoon have the same charge. Since, however, like charges repel one another, we have this unusual drama.
The next experiment is called Simple Electroscope. Bore a hole through the lid of a jam jar and push a piece of copper wire bent into a hook through it. Hang a folded strip of aluminum foil over the back. If you hold a fountain pen, comb, or similar object which has been electrically charged by rubbing on the top of the wire, the ends of the strip spring apart.
On contact with a charged object, electrical charges flow through the wire to the ends of the strip. Both now have the same charge and repel one another according to the strength of the charge.
The next is called Electrical ball game. Fix a piece of aluminum foil cut into the shape of a footballer on the edge of a phonograph record, rub the record vigorously with a woolen cloth and place it on a dry glass. Put a tin can about two inches in front of the figure. If you hold a small aluminum foil ball on a thread between them, it swings repeatedly from the figure to the can and back.
The electric charge on the record flows into the aluminum-foil figure and attracts the ball. It becomes charged, but is immediately repelled because the charges become equal, and goes to the can, where it loses its electricity. This process is repeated for a time.
The next experiment is called Electric fleas. Rub a long playing record with a woolen cloth and place it on a glass. If you toss some small aluminum foil-balls on to the record, they will jump away from one another in a zig-zag motion. If you then move the balls together with your fingers, they will hop fiercely away again.
The electricity produced on the record by rubbing is distributed in irregular fields. The balls take up the charge and are repelled, but are again attracted to fields with the opposite charge. They will also be repelled when they meet balls with the same charge.
The next experiment is called Puppet dance. Lay a pane of glass across two books, with a metal plate underneath. Cut out dolls an inch or so high from tissue paper. If you rub the glass with a woolen cloth, the dolls underneath begin a lively dance. They stand up, turn round in a circle, fall, and spring up again.
The glass becomes electrically charged when it is rubbed with the wool, attracts the dolls, and also charges them. Since the two like charges repel each other, the dolls fall back on the plate, give up their charge to the metal and are again attracted to the glass.
Next is called High voltage. Place a flat baking tray on a dry glass, rub a blown-up balloon vigorously on a woolen pullover and place it on the tray. If you put your finger near the edge of the tray, a spark jumps across.
A voltage equalization occurs between the metal and the finger. Although, the spark is discharged with several thousand volts, it is just as harmless as the sparks produced when you comb your hair. An American scientist discovered that a cat's fur must be stroked 9,200,000,000 times to produce a current sufficient to light a 75-watt bulb for a minute.
The next experiment is called Flash of lightning. Place a metal slice on a dry glass(it shows an old metal spatula with the handle broken off), and on it a piece of hard foam plastic which you have rubbed well on your pullover. If you hold your finger near the handle of the slice, a spark jumps across.
When the negatively charged plastic is placed on the slice, the negative electric particles in the metal are repelled to the end of the handle, and the voltage between it and the finger becomes equalized. Plastic materials can become strongly charged. In warehouses, for example, metal stands for rolls of plastic are earthed because otherwise they often spark when they are touched by the personnel.
The last experiment under Static Electricity, is called Electric light. In many homes there is a voltage tester, generally in the form of a screwdriver. In its handle there is, amongst other things, a small neon tube which you can easily remove. Hold one metal end firmly and rub the other on a piece of hard foam plastic which may be used for insulation. The lamp begins to glow as it is rubbed to and fro, and you can see this particularly clear in the dark.
Since the plastic is soft, its layers are rubbed against one another by the movement of the lamp and become strongly charged with electricity. The electrons collect on the surface, flow through the core of the tiny lamp, which begins to glow and into the body.
The ancient Greeks had already discovered that amber attracted other substances when it was rubbed. They called the petrified resin 'electron'. The power which has caused such fundamental changes in the world since then therefore gets its name-electricity.
In beginning of the story Little House on the Prairie, Grandma's book (185) wants us to understand that it "is a book based on one girl's memories of her family." Memories could be told long before Grandma's time, but most of the people living on the prairie have long died. Much of what we have is in museums, memories told to children born in the depression, and in books as this one.
The Story Summary says "One day toward the end of winter, Charles Ingalls (Pa) announces to his wife Caroline (Ma) that the big woods of Wisconsin are becoming too crowded. He has decided they will travel west to Indian country. So they sell their little log house, build a covered wagon, and move and settle out West.
All that year, Ma, Pa, Laura, May, and Baby Carrie put their hearts and their hard work into their new home. Then suddenly word comes from the government that the land where they have built their home belongs to the Osage Indians. The settlers will have to move on. Sad to leave, but looking forward to new adventures, the Ingalls family packs their wagon once again for another journey.
In Meet the Author: Laura Ingalls Wilder Laura Ingalls Wilder (1867-1957) was born in a "little house in the big woods" in Pepin, Wisconsin, on February 7 to Charles and Caroline Ingalls. In 1870 the Ingalls family journeyed west to homestead in Kansas. When the government informed them in 1871 that they had settled on land belonging to the Osage Indians, they moved on to Minnesota, where they lived on the "banks of Plum Creek." Finally in 1855, Laura married Almanzo Wilder, and 1886, their daughter Rose was born in De Smet, South Dakota. The Wilders eventually settled in a one-room log cabin in Mansfield, MIssouri, where they later built their own home-a ten-room farmhouse. Laura always considered herself a partner in her husband's business. She did not begin writing professionally until 1932 at age 65.
Information on the illustrator, Garth Williams, is as follows: Garth Williams was born in New York City on April 16, 1912, of English parents, both of whom were artists. Educated in England, Williams studied at the Westminster Art School and the Royal College of Art. Williams returned to the United States in 1941 to work as an artist for The New Yorker magazine. He was asked to illustrate E.B. White's Stuart Little in 1944, and he has been a children's book illustrator ever since. Before beginning the illustrations for the 1953 Harper edition of the "Little House" books, Williams visited Mr. and Mrs. Wilder in their home in Mansfield, Missouri, and then actually followed the route that the Ingalls family took in their covered wagon.
What Grandma had obtained from her family history has been mainly given to her by her mother. My father's last name was Karnes and their family moved from Wichita Kansas to Denver , CO after my grandfather was grown and married my Mother in Colorado Springs. He was very intelligent and became an accountant and eventually an office manager for a trucking company as I grew up. He grew up in Kansas and played the saxophone. His father wrote some and was a traveling salesman at some time. His mother had seven children.
My mother's family has some history that is very valuable. Her relations carried a woman from Iowa carrying the last name of Henry VIII last wife. We still have more research to do in that area. Her mother's father was born on a ship coming into New Orleans who settled in Waverly, Nebraska training horses. He loaded up the horses and his big family and moved to Alliance, Nebraska. My mother's father was born of my mother's grandparents who had some other children They raised my mother after her mother died when my mother was 2 years old. The each played instruments for their churches and lived on the river till they moved in town with the girls, my mother and aunt. I remember my Aunt Myrtle, a very sweet and strong woman, large built and an amazing old fashioned home. For some reason I know I loved her. My mother's father and grandmother were hard on my mother, but she said her grandfather was very sweet. She said she and my aunt took care of their grandmother before she died. They remember fixing her hair and cooking. She remembers chopping wood and starting the morning fire to dress by. She said she had family that was born as twins and they were kept warm by the back of the stove as in an incubator. They survived till an old age. Twins seems to be in both sides because a cousin had a set even though one died. My brothers son just had a set also, they are very cute. I do not know much more than that, other than that my grandmother helped my grandfather when she could. However, her family would not take the girls in. I have seen a few museums in my lifetime but have no collections of my own but one bowl. I do know it was a hard life.
I do know my aunt's ranch 12 miles out did not have telephone until later in the 50's and much of the ponds were ruined from practice by the army on the lands. They did raise quite a bit of cattle though.
This all Grandma can handle tonight. I will write more tomorrow and cover as much as possible. It is going to be a long week, so be prepared.

Dear  Folks:
Grandma has twenty to twenty-two more days of
information to enter. However, I will be entering it as 
two separate days in one day.  Be sure to finish up
reports here this next week along with your year
books; family scrapbooks, trees, and information;
recipes collected; information on animals, insects,
plants, planets and space; recycling; pollution;
older people; poems; jokes; riddles; art; math reviews;
spelling and vocabulary reviews; words, writing, alphabets; and anything else to finish up as the end
of the year on the newspaper, journals, any of your reading, mine I have given. Grandma still has a few
more books to cover for you, calendar history to catch up and give. Then she will finish the calendar
for the summer; the rest of the bible; South America; Science; and any thing else we can think of. I
will continue with lessons for the summer and then start the year over again in following what we have
and adding to it.
For today's Calendar History Lessons Grandma will cover May 15th and 16th on this day along with
the 1900's for April. Then I will cover a Book in the Bible; some science; some things on the Pioneers
and Little House on the Prairie.
May 15th 1856 L Frank Baum, children's author who wrote the Wonderful Wizard of Oz was born. In

1859 Pierre Curie, French physicist and cadiscoverer of the element radium, was born. In 1930
Jasper Johns, American artist, was born. Book (1) says to "Tell your (children) that Jasper Johns
often incorporated numbers into his works. Share some photographs of John's paintings, including
Zero through Nine
. How many numbers can the kids find?" Link to
Jasper's Paintings
in Youtube.
In 1602 English explorer Bartholomew Gosnold discovered Cape Cod. In 1862 The U.S. Department
of Agriculture was established. Also in 1862 The First Baseball Stadium opened in Brooklyn, N.Y.
In 1941 Baseball player Joe DiMaggio began his record-breaking 56-Game Hitting Streak. Book (1)
says, "For 56 consecutive games, New York Yankee star Joe DiMaggio managed to get one or more
hits, a streak many believe will never be matched. Ask your (children) to estimate what percentage
of the 154-game season DiMaggio's hitting streak covered. Then have them check their estimates
using calculators."

In 1930 The First Airline Stewardesses started work.
Book  (1) says, "Ellen Church, a registered nurse,
was the world's first airline stewardess. She and
seven other nurses were hired by United Airlines
to serve food, allay passengers' fears, and help
with the upkeep of the plane. Ask your (children)
why they think nurses were hired for this job. What skills do today's flight attendants need?"
In 1942 Wartime Gasoline Rationing Began, with most people limited to 3 gallons a week.
In 1989 The apple industry Agreed to Stop Using the Chemical ALAR, a ripening and preserving
 agent, because of its suspected carcinogenic effects. Do some research if wish.
It is also Peace Officers Memorial Day and Police Memorial Day. It would be a good time to talk
about these people and do some interviews. It is also Straw Hat Day. Book (1) says, "Celebrate
Straw Hat Day by asking your (children) to wear their favorite hats .... Invite each child to share a
story about the hat, telling where it came from, how old it is, When it's usually worn, use paper
plates to create their own, then decorate them to show their favorite sports or hobbies.
May 16 1801 William Seward, U.S. secretary of state who promoted the purchase of Alaska from
Russia, was born. In 1804 Elizabeth Palmer Peabody, American educator and founder of the
first English-speaking kindergarten in America, was born. In 1928 Betty Miles, children's author,
was born. In 1955 Olga Korbut, Russian gymnast, was born. In 1964 John Salley, basketball star,
was born.
In 1866 A U.S. Five-cent Piece was authorized. Book (1) says, "Have younger (children)
calculate the number of years nickels have been in circulation. Then have the children collect
10 to 20 nickels. Arrange them in order from the oldest to the newest. How old is the oldest?
Compare  the head and tail impressions. Are they all alike? Have the children speculate
about how the terms heads and tails might have originated."
In 1875 The First Kentucky Derby took place. In 1903 George Wyman left San Francisco on the
First Transcontinental Motor-Cycle Trip. In 1929 The First Academy Awards (Oscars) were presented.
Book (1) says, "Ask your (children) to list eight Oscar categories, real or made up." For each or at
least one category create brief written nominations in it, then read them to the family or some group. 
Hold a vote to determine the winners.
In 1939 Rochester, N.Y., introduced the First Food Stamp Program. In 1973 The First Flight of a
Solar-powered Balloon took place. In 1975 Junko Tabei of Japan became the First Woman to Reach
the Top of Mt. Everest. In 1988 Ricard Stokes became the First Black to Join the Buckingham
Palace Guard. In 1990 Muppet master Jim Henson died. Book (1) suggests, "To mark Biographers
Day-- and in memory of Muppeteer Jim Henson--have the (children) each select a favorite Muppet
character, then write a short biography of that character.
It is also National Egg Month and whether Grandma covered it or not, Book (1) asks you to "Ask your
(children): Which came first, the chicken or the egg? ...encourage the kids to conduct some
background research. Afterward, have them each write a persuasive paragraph supporting their position.
This brings Grandma down to giving you the 1900 events for April as follows:
April 11, 1900 The U.S. Navy bought its First Submarine, the USS Holland.
April 24, 1913 The Woolworth building opened in New York City. At 792 feet,
it was the tallest Building in the World.
April 2, 1902 The First Motion-Picture Theater in the United States opened in Los Angeles.
April 6, 1909 America explorers Robert Peary and Matthew Henson reached the North Pole.
April 8, 1904 Longacre Square in New York City was renamed Times Square.
April 12, 1917 President Woodrow Wilson asked Congress to declare war on Germany
so that America could help "Make the World Safe for Democracy."
April 10, 1912 The luxury liner Titanic Hit an Iceberg just before midnight.
April 20, 1902 French scientists Marie and Pierre Curie discovered Radium.
April 21, 1908 according to Dr. Frederick Cook, he reached the North Pole.
According to Book (1) "Although Frederick Cook kept a journal purportedly proving he'd
discovered the North Pole, another man has been given credit for the discovery. Challenge
your (children) to find out who that man was."
April 18, 1906 A devastating Earthquake struck San Francisco destroying 3,000
acres of the city.
April 15, 1912 Albert Einstein first spoke of Time as the Fourth Dimension.
April 15, 1912 The Ocean Liner Titanic sank in the North Atlantic.
April 11, 1921 Iowa became the First state to Impose a Cigarette Tax.
April 1, 1923 The First Dance Marathon began in New York City.
April 13, 1923 The Illinois legislature Gave Women the Right to Serve on Juries.
April 18, 1923 Yankee Stadium opened in New York City.

April 10, 1924 Simon and Schuster published the First Crossword Puzzle Book. 
April 16, 1926 The Book-of-the Club was founded in New York City.
April 6, 1927 The First Pilot's License was issued by the U. S. Department of Commerce.
April 7, 1927 Secretary of Commerce Herbert Hoover appeared on screen in the First
Public Demonstration of Television.
April 3, 1933 An airplane first flew over Mt. Everest.
April 12, 1934 The Highest-Velocity Natural Wind ever recorded--231 mph--occurred
on Mt. Washington, N.H.
April 18, 1934 The First Laundromat--called a "Wasateria"--opened.
April 8, 1939 The First Telephone Weather Forecasting Service began in New York City.
April 7, 1940's Booker T. Washington became the First African-American depicted
on a U.S. Postage Stamp.
April 16, 1940 Bob Feller of the Cleveland Indians pitched an Opening Day
No-Hitter against the White Sox in Chicago.
April 20, 1940 The Electron Microscope was demonstrated for the first time.
April 9, 1941 The Golf Hall of Fame was established in Palm Beach Gardens, Fla.
April 1, 1943 Norman Rockwell did his first April Fool's cover for The Saturday Evening Post.
This had an activity with it but Grandma decided to skip this one.
April 13, 1943 President Franklin D. Roosevelt dedicated the Jefferson Memorial in Washington, D.C.
April 3, 1944 Anne Frank, age 14, described her family's eating habits in her diary.
Book (1) says, "Through her diary, Anne Frank gave the world an account of her feelings and
experiences as she and her family hid from the Nazis during World War II. After 21 months in
hiding, she wrote about "food cycles"--times when she and her family ate only one food, prepared
in various ways. For example, "We had nothing but endive for a long time, day in, day out, endive
with sand, endive without sand, stew with endive, boiled or en casserole..."  Ask your (children)
to keep a diary recording what their family eats for 1 week. Compare their diet with that of Anne
Frank."
April 1, 1946 Stan and Jan Berenstain, the creators of the Berenstain Bears, were married.
An activity goes along with this in which Book (1) says, "Stan and Jan Berenstain have two sons.
When the boys were young, they asked their parents to buy them funny books. The Berenstains
eventually ran out of books to buy, so they created their own. Read several of the Berenstains'
books to the (children), discussing how humor makes the stories appealing. Then choose one
story and ask the (children) to write and illustrate another episode or a different ending for it."
April 18, 1946 The League of Nations officially went out of existence.
April 10, 1946 Japanese Women voted for the first time.
April 7, 1947 A 23-Day, Nationwide Telephone Strike in the United States began.
April 9, 1947 Sunspots were Large Enough to be visible to the naked eye.
April 11, 1947 Jackie Robinson broke major-league baseball's "color barrier" when he
joined the Brooklyn Dodgers.
April 7, 1948 The World Health Organization was founded.
April 4, 1949 The North Atlantic Treaty organization (NATO) was formed.
April 23, 1949 Governor Adlai E. Stevenson of Illinois vetoed a Bill requiring cats to be leashed.
Book (1) says "In refusing to sign the bill requiring cats to be leashed, Governor Stevenson noted,
"it is in the nature of cats to do a certain amount of unescorted roaming." Do your (children) agree?
Ask them to make a class list of things pet owners can do to ensure their pets aren't a nuisance
to other people." (Grandma had an experience of her granddaughter wanting to leash the cat
because it meowed constant to go back outside and she did not like him roaming with the wild ones.
A friend held the leash and it got loose and caught under a car. If they can be kept in but if they insist
it is better to let them do their natural roaming in my opinion. However, Grandma has had some very
bad things happen to them by others.) 
April 13, 1950 Simon, the cat mascot of HMS Amethyst, was awarded a Medal for his
Rat-catching Exploits.
April 19, 1950 Ham Kee Young, a 19-year-old from South Korea, became the Youngest
Runner to win the Boston Marathon.
April 24, 1951 The Soviet Union applied to Participate in the Olympic Games for the first
 time since 1912.
April 15, 1952 The Franklin National Bank of New York issued the First Bank Credit Card.
April 24, 1953 Winston Churchill was knighted by Queen Elizabeth II.
Book (1) says, "Sir Winston Churchill is noted for his outstanding military and Political leadership
during World War II. When Britain seemed on the verge of collapse, he rallied the nation with
magnificent speeches and directed the war effort with unflagging nerve. Churchill was also a fine
writer--he won the Nobel Prize in literature in 1953--the same year he was knighted by Queen
Elizabeth II. As a child, Churchill had been considered a poor student. His mother felt a
military career would suit him because he liked playing with toy soldiers. After taking the entrance
exams for the Royal Military College three times, Churchill was finally admitted. There he excelled.
His great interest in the military had sparked his hidden abilities. Ask your (children) if they think
they have hidden abilities. Can they identify the hidden abilities in others? Have partners interview
each other in an attempt to find out. Then have each child write a paragraph of praise about his
partner. Post the paragraphs."
April 10, 1953 The House of Wax, the First Feature-Length 3-D Movie in Color, Premiered
in New York City.
April 11, 1953 The Department of Health, Education and Welfare was established.
Oveta Culp Hobby became its first Secretary.
April 17, 1953 Yankee slugger Mickey Mantle hit a 565-Foot Home Run, the longest ever measured.
April 1, 1954 The U.S. Air Force Academy was established in Colorado Springs, Colo.
April 11, 1954 "Rock Around the Clock" by Bill Haley ant the Comets was recorded.
April 23, 1954 Home run King Hank-Aaron hit His Homer in the major leagues.
April 12, 1955 The Polio Vaccine, developed by Jonas Salk, was pronounced safe and effective.
April 15, 1955 The First McDonald's Restaurant opened in Des Plains, Ill.
April 14, 1956 Videotape was First demonstrated to the public.
April 24, 1956 Willard Cravens caught a 360-pound, 9-foot-long white sturgeon in Idaho's Snake
River. It was the Largest Freshwater Fish ever caught with rod and reel.
April 7, 1959 The First Atomic-Generated Electricity was produced in Los Alamos, N.M.
April 9, 1959 NASA announced the selection of America's First Seven Astronauts.
April 21, 1959 Alf Dean caught a 2,664-pound Great White Shark.
April 1, 1960 Tiras I, The First weather Satellite, was launched by the United States.
April 12, 1961 The Soviet Cosmonaut Yuri Gagarin became the First Man in Space.
April 13, 1961 The UN General Assembly voted to condemn Apartheid, South Africa's
policy of racial segregation.
April 5, 1963 The Soviet Union and the United States established a telephone "Hot Line"
linking their leaders. The need for a direct channel of communication was demonstrated
during the Cuban Missile Crisis.
April 7, 1963 At age 23 Jack Nicklaus became the Youngest Person to win the Master
Golf Tournament.
April 9, 1963 Former British Prime Minister Winston Churchill was made an honorary U.S. Citizen.
April 17, 1964 Jerrie Mock of Columbus, Ohio, became the First Woman to Complete a Solo
Flight around the world.
April 16, 1965 Early Bird, the First Commercial Communications Satellite, went into orbit.
April 9, 1965 President and Mrs. Lyndon Johnson were honored guests at the opening of the
Houston Astrodome.
Book (1) says, "The Houston Astrodome, which cost $20 million to build, has a plastic dome that's
208 feet above the stadium floor at its highest point. Challenge your (children) to work ...to create
freestanding domes using only plastic wrap and straws for support."
April 24, 1967 Soviet Cosmonaut Vladimar Komarov was killed when his parachute straps of his
spacecraft got tangled during a landing attempt.
April 4, 1968 Civil rights leader Martin Luther King, Jr., was assassinated in Memphis, Tenn.
April 22, 1968 Forty-four countries signed a Treaty Pledging Cooperation in Rescuing
Astronauts in trouble.
Book (1) suggests "After discussing the treaty to rescue astronauts, talk about treaties and their
significance in history. Then ask each (child) to research an important treaty and report to (you).
As each treaty is discussed, note its place in history on (the) class time line."
April 4, 1969 Doctors in Houston implanted the First Artificial Heart in Haskell Karp of Skokie, Ill.
April 13, 1969 A White Tiger Cub was born in captivity for the first time, at the National
Zoological Park in Washington, D.C.
Book (1) says, "Tell your (children) that the white tiger is one of the world's rarest tigers. So when
a white tiger cub was born at the National Zoo, there was much rejoicing. To commemorate this
event, have your (children) draw and color a "birth announcement" for the baby tiger."                                                              
April 23, 1969 Robin Knox-Johnston completed the First Nonstop, Around-the-World Solo Sailing Trip.
Book (1) says to "Tell your (children) that Robin Knox-Johnston was at sea for 312 days and covered 29,500 miles. Then ask the kids if they'd ever want to go on an adventure alone. Why or why not? Have a ...discussion about being alone. What's it like? Can being alone feel good sometimes? Can it also be frightening? Ask (the children) to imagine that they were going to duplicate Robin Knox-Johnston's journey. What kinds of skills would they need?" (Grandma says to remind them that Jesus is always with them and God.) 
April 22, 1970 The First Earth Day was observed.
We will let the activity go to this one for now unless grandma already assigned something.
April 3, 1971 Gordie Howe retired from professional hockey after 25 years.
April 20, 1971 The supreme Court upheld Busing as the Primary means to Achieve Racial Balance in the public schools.
April 16, 1972 Chinese Giant Pandas arrived at the U.S. National Zoo.
April 4, 1974 Hank Aaron of the Atlanta Braves tied Babe Ruth's record of 714 career home runs.
April 8, 1974 Hank Aaron hit his 715th Career Home Runs, breaking Babe Ruth's long-standing major-league record.
April 4, 1976 Kazukiki Asaba Flew 1,050 Kites at one time.
April 21, 1977 The Musical Annie opened on Broadway.
April 6, 1978 President Jimmy Carter signed into law legislation Raising the Mandatory Retirement
Age for government Age for government workers from 65 to 70.
April 20, 1979 Thirty-five riders pedaled the Longest True Tandem Bicycle ever built. It was almost 67 feet long.
April 12, 1980 The U.S. Prime Interest Rate hit a record 20%.
April 14, 1981, The First Space Shuttle the Columbia, was launched.
April 14, 1981 The Space Shuttle Columbia ended its First test Flight with a Smooth Landing in California.
April 17, 1982 Queen Elizabeth II gave Canada the Right to Amend its Constitution, thus severing its last legislative link with Britain.
April 18, 1981 Pitcher Tom Seaver struck out his 3,000th batter.
Book (1) says, "Tom Seaver went on to strike out 640 more batters after achieving his 3,000-strikeout milestone in 1981. He retired in 1986. Ask your(children) to figure out how many strikeouts Seaver averaged per year over his 20-year career. Tell the kids that through the 1992 season, Nolan Ryan, baseball's alltime strikeout leader, had fanned 5,668 batters over the course of a 26-year career. How many strikeouts had Ryan averaged per year?"
April 1, 1983, Newspaper reporter Steven Newman began a 15,000-Mile Walk-Around the World.
April 1, 1983 The Tiger Tops Tuskers won the First Championship of the World Elephant Polo Association.
April 5, 1984 Kareem Abdul-Jabbar scored his 31,421st point, becoming the Highest-Scoring Basketball Player in NBA History.
April 11, 1984 Two astronauts from the Space Shuttle Challenger performed the First IN-Space Repair of a Satellite.
April 12, 1984 The Crew of the Space Shuttle Challenger placed a satellite it had retrieved and repaired back into orbit.
April 19, 1985 Susan Montgomery Williams of Fresno, Calif., blew the Biggest Bubble Gum Bubble on Record. It was 22 inches in diameter.
April 15, 1985 The World's Largest Marching Band, 4,524 students, performed at Dodger Stadium in Los Angeles.
April 6, 1985 William J. Schroeder became the First Artificial Heart Recipient to be Discharged from a hospital.
April 9, 1985 Thomas Bradley became the First Los Angeles Mayor to win a Fourth term of Office.
April 5, 1986 A British Guiana 1-cent Stamp sold for $850,000, the highest price ever paid for a stamp at an auction.
April 23, 1989 Kareem-Abdul Jabbar, professional basketball's all-time leading scorer, played his last regular-season game.
April 16, 1988 Residents of Fort Madison, Iowa, raised $12,383.06 in Pennies for a playground.
Book (1) says, "The residents of Fort Madison, Iowa, housed their 1,238,306 pennies in the high school gymnasium. To give your (children) a sense of Fort Madison's accomplishment, cover a dollar bill with 100 pennies. Then ask the kids to estimate how many dollar bills would be needed to cover a desk top. Next, trace a dollar bill on drawing paper and have your (children) cut out enough to cover one desk top (A 24X18-inch desk would require 26 dollars.) Now, ask your students to calculate how many desk tops could be covered by $12,383.06."
April 20, 1987 New Jersey became the third state to pass a Recycling Law.
In place of Book (1)'s instructions have the children make a record of people they have talked to in interviews that recycle. Graph the results. Can they think of some ways things that we throw away be used.
April 15, 1989 The Highest and Fastest Steel Roller Coaster--the "Great American Scream Machine"-- opened at Great Adventure in Jackson, N.J.
April 7, 1988 The World's Largest Quilt, measuring 1.73 acres, was completed. Its 4,200 panels commemorate Aids victims.
April 12, 1988 The U.S. Postal Office issued a Patent For a Live Mouse, a new breed genetically altered to aid in the study and treatment of cancer.
April 18, 1988 Kenya's Ibrahim Hussein became the First African to win the Boston Marathon.
April 2, 1989 In an editorial, The New York Times Declared that the Cold War was over.
April 7, 1989 A Soviet Nuclear Submarine Sank in the Norwegian Sea.
April 20, 1988 Teacher Alice Meyer performed Mouth-to-Mouth Resuscitation on a puppy that had been stuffed into a student's book bag.
Book (1) says to "Discuss proper care of pets with your students, then have them develop a list of dos and don't s."
April 8, 1990's Ryan White Died at age 18. A Hemophiliac who had contracted Aids through a blood transfusion 5 1/2 years earlier, White had promoted a greater understanding of the disease.
April 14, 1990 The Space Shuttle Discovery was launched with a copy of the U.S. Constitution on board.
April 22, 1990 Millions of Americans celebrated the 20th Anniversary of Earth Day.
Grandma is so sorry for all the problems. She hopes there will be no more in finishing up the material I want to give to you. I had the Calendar material typed up for the Calendar history typed up last week, but I all at once had connection problems which the new Internet service had to deal with and they thought it was their equipment but it actually all came down to a new rouder even though some other things had to be cleared up in the middle and they are so busy a technician could not come till yesterday. Now we are set to go, but the Calendar History I though I had saved has somehow been lost and Grandma has tried in all ways to try to find it. I must take the time to retype it which will have to be top priority at this time and must be done first for you. I will finish all the material I have to give you even if it takes us the next few weeks which I do not feel it will. However, Grandma wants to cover the full 180 days for you. Therefore, I hope you will be patient for me to receive it. You have been great and our followers are growing. I love hearing from everyone and will give material for the summer and try to continue my work until I have no more to give you. We will do our best to keep marketing and I should be able to take some pictures soon to send you. I will keep things up the best I can. Take care.
Calendar History for the beginning of May is as follows: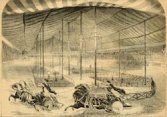 Grandma will now be giving you the 1900 history also to add to the calendar or time line. As I pointed out before, The Project of the Month is Intergenerational Connections. Grandma has a great interest in this because not only in feeling the attitude of my own children, but the attitude of other young folks is that some parents do not seem to count. There is things in my own family that are so intense and bad that I have been forced to secrecy for the value of their good will. I will not go into facts in my blogs because I have been sworn to secrecy. Parents are not machines with a switch that turns on when you want them to work and when you don't. Children and some older people I sworn to secrecy about have learned to manipulate so well and get what they want that other can be hurt very badly to the point the connection between grandparents and grandchildren can be so broken that there is no chance for any survival.
I have a very strong feeling towards older peoples wishes and respect to the point Grandma has been hurt by her own mother so bad that it is irreparable. I do not feel this kind of things should happen to Grandparents or any older person as that.
The project for the month is for children to do research on older people through local nursing homes, senior citizens' centers, religious groups, or your child's own grandparents. Do interviews, reading, sharing booklets, open houses, sharing books together, and experiences keeping record of all their material. Find out all they can and do whatever they can with it. Publications as your newspapers, yearbooks, and family scrapbooks, blogs, pictures, and anything else you can think of. Put it all together and do anything you can with it.
The Monthly projects for the month are as follows:
Monthlong Observances are
American Bike Month-clean and fix bikes, learn safety rules, have a race, enter a race
Asian-American Heritage Month-results from last month may be usable
Better Sleep Month-analyze, contemplate, collect information an use
National Barbecue Month-If you have not done any of that yet, I hope you make a time to
National Egg Month-a great time to decorate some of the special ones you have learned about and eat
Older Americans Month-should be for any nationality
Weeklong Events are
International Music Week(first week)-can still be utilized in listening to different music and choosing
National Letter Writing Week(first week)- can still say it was last week but send out certain letters
National Nurses Week(first week)-can still commemorate them or a favorite as it was  last week
National Pet Week(first week)-can still do something special for your pets or a friends
Asian American Week(first full week)-still commemorate
Be Kind to Animals Week(first full week)-utilize along with the pets
National Family Week(first full week)-you should be utilizing some of this already
National Postcard Week(first full week)-send a postcard to a friend and look at various ones
Teacher Appreciation Week(first full week)-give the children an opportunity to give you appreciation-talk
Metric Week(second week)-look at metrics-compare them to our own measurements
National Be Silly Week(second or third week)-what fun to end the year with
Police Week(week including May 15)-talk about their jobs and what they think makes a good police
National Transportation Week(week including the third Friday)-do all you can do with this
National Science Week(third week)-this month has a lot of science in it
All-American Buckle-Up Week(third full week)-good with the police lessons and safety for summer
Clean Air Week(last full Week)-grandma had information posted maybe on a blog-do the research-talk
Special Days and Celebrations are
Kentucky Derby Day (first Saturday)-talk about it
Mother's Day (second Sunday)-I hope you had a good day, mine was horrible
Native American Day(second Saturday)-Grandma will try to help; get books and you tube
Memorial Day(last Monday)
May 1 in 1764 Benjamin Latrobe, American architect who designed the south wing of the U.S. Capitol, was born. In 1825 George Inness, American landscape painter, was born. Then in 1925 Scott Carpenter, American astronaut, was born.
In 1704 The Boston News-letter published the First Newspaper Advertisement in America. In 1707 England and Scotland formally adopted the Name "Great Britain" when the two kingdoms were constitutionally united. In 1847 The cornerstone was laid for the Smitsonian Institution in Washington, D.C. In 1931 The Empire State Building in New York City opened. Book (1) says to, "Tell your (children) that when the 102-story, 1,250-foot-tall Empire State Building opened, its closest rival in height was New York's 77-story Chrysler Building, which was 1,046 feet tall. Have your (children)calculate, as a percentage, how much taller the Empire State Building in in feet and in number of stories.
In 1950 Gwendoly Brooks became the First Black Woman to be Awarded a Pulitzer Prize in Poetry. In 1963 James W. Whittaker became the First American to Reach the Top of Mt. Everest. In 1983 More than Two Dozen Tornadoes hit the Midwest.
It is also Law Day in which book (1) says "was established by presidential proclamation in 1958. Ask your (children) what they think a law is. Then have them list five laws, school rules, or home rules they follow every day. How do these laws and rules protect them? Tell your students that an Illinois congressman once asked the people in his district for ideas for new laws. He got some interesting responses from schoolchildren." It is also Loyalty Day so talk about different ways we are loyal to others and ourselves. It is also Save the Rhino Day which goes along with the month and Mother Goose Day which you can have a lot of fun with. Book (1) says, "...,ask your (children) to help some nursery characters solve their problems. For example, how might Bo Peep find her sheep? How could Miss Muffet get rid of her spider? What could Little Boy Blue do to keep from falling asleep? How might Jill help Jack's injured head? Where are the mittens that belong to the three kittens? Have students write their solutions on goose-shaped sheets of construction paper. It is also fun to make puppets for Mother Goose stories.
May 2 1892 Stephen Meader, children's author, was born. In 1903 Benjamin Spock, American pediatrician and author was born. Book (1) syas to "Invite (the children) to evaluate Dr. Spock's contributions to their lives. Read aloud selected excerpts from one of his books. Then ask the kids to respond to Spock's ideas on a given topic. ... have the (children) develop their own guidelines for good parenting, based on their own and their siblings' experiences. Compile these guidelines into a class booklet". Lastly in birtdays Bing Cosby, American singer and actor was born in 1904. He may be a little beyond your times; however, he definately was one of Grandma's generations favorites.
In 1853 A Chariot and Ostrich Race highlighted the opening of Franconi's Hippodrome in New York City.
On This day, May 2, in 1853, Franconi's Hippodrome opened (not to be confused with the later venue the Hippodrome Theatre or New York Hippodrome, built in 1905 in the Theater District).

"What is a Hippodrome?," you might ask.  Franconi's Hippodrome was a elliptical shaped structure 338 feet by 196.5 feet, with a seating capacity of 10,000 people.  The structure was covered with a patriotic red, white and blue canvas supported by a 70 foot center pole, and a series of 40 foot smaller polls surrounding the central pole.  It was located at Madison Square, on Fifth Avenue between 23rd and 24th Streets.

The structure was in many ways the precursor to the modern circus, especially those with a "Big Top" and multiple rings.

The Hippodrome, which was based upon a roman structure, the "Roman Circus" of similar purpose, included, and could be said to highlight a track for animal, and chariot races.  Animal acts and other circus-like acts would take place inside the track.

The Hippodrome only lasted 2 years, with its final performance on November 12, 1855, featuring General Tom Thumb (made famous by P.T. Barnum) and a menagerie.  The structure was closed 5 days later, on November 17, with the Animals and fixtures auctioned off thereafter.  Demolition of the remains of the Hippodrome began in March of 1856, with newspapers noting that the "neighbours are not sorry" to see it removed.  The papers, specifically the New York Daily Times, had noted upon its opening that the attendees, "...were blacklegs, gamblers, rowdies, and the miscellanea of polite roguery and blackgurdism."

It was apparently so bad, PT. Barnum wrote a letter to the editor of the New York Daily Times, stating:
To the Editor of the New-York Daily Times:

Notwithstanding I have some half-dozen times contradicted in the public prints the reports of my being interested in the Hippodrome, I observe that your Correspondent from New-Haven reiterates the old story, and insists that Franconi and Barnum in this country are synonymous terms.  Will you permit me once more to state that I have not the slightest interest, nor never had, in any Hippodrome in this or any other country; and that I am not interested to the amount of a farthing, nor never was, in the Crystal Palace, The Tower, or in any lot or lots, building or buildings in the vicinity of either.  Yours Truly, P.T. Barnum."  New York Times, May 26, 1853, Page 2

It is not without irony, that Mr. Barnum, in 1871, established, "P.T. Barnum's Grand Traveling Museum, Menagerie, Caravan & Hippodrome."  
Picture are in the beginning of Grandma's blog.
In 1887 The First Kindergarten for the Blind opened. In 1917 In a baseball game between the Cincinnati Reds and the Chicago Cubs, Both pitchers hurled nine no-hit Innings. The Reds finally got two hits and a run in the 10th inning and won, 1-0. In 1927 Alaska's Flag was adopted. It had been designed by 7th grader Benny Benson. Book (1) says to "Have (the children) design a flag for their own state or for any other state they choose. When they've finished their designs, ask them to write two or three sentences explaining why they used certain colors and symbols. Next, have the kids compare their flags with the official state flags. Display the flags....
In 1936 Sergel Prokofiev's Peter and the Wolf premiered in Moscow.
In 1954 Stan Musial of the St. Louis Cardinals hit a record Five Home Runs in a Double-Header. In 1972 J. Edgar Hoover, director of the FBI for 48 years, died at age 77.
It was also Backwards Day, therefore, maybe you can think of some backward things you can do together.
May 3 in 1849 Jacob Riis, photographer considered the first American photojournalist, was born. In 1898 Golda Meir, prime minister of Israel, was born. Book (1) says to "Tell your (children) that before becoming prime minister of Israel, Golda Meir werved as the first woman foreign minister. Have older students work ...to research Meir's accomplishments in office. Afterward, ask the kids to name other women who have held--or currently hold--important leadership positions in countries around the world, then locate the countries on a map." In 1934 James Brown, American singer, was born.
In 1654 The First Toll Bridge opened over the Newbury River in Rowley, Mass. Book (1) says, "When the first toll bridge opened, people could cross for free but had to pay when their livestock crossed. Younger children cand ecide on tolls for different animals, such aa pigs, cows, horses, and chickens. They can then use their invented fees to develop toll-bridge math problems. For example: How much money would Farmer Smith owe if he took three chickens, eight cows, 10 horses, and two pigs across the bridge?"
In 1715 A Total Eclipse of the Sun was observed and documented. In 1765 The First U.S. Medical School was established at the University of Pennsylvania. In 1904 New York became the First State to Pass a Speed Law for Autos (suggested maximum speeds: city, 10 mph; small town, 15 mph; country, 20 mph). In 1921 West Virginia imposed the First State Sales Tax. In 1937 Margaret Mitchell won a Pulitzer Prize for Gone with the Wind. In 1943 Robert Frost won his fourth Pulitzer Prize in poetry. In 1971 National Public Radio began broadcasting. In 1973 Chicago's Sears Tower became the world's tallest building. Book (1) says, "The Sears Tower is 1,454 feet (110 stories high and has 4,500,000 square feet of floor space. To help older students understand area, take them to the gym, cafeteria, or playground and have them estimate, then measure, the area in square feet. Compare this with the floor space of the Sears Tower. Students studying ratio and proportion can select a familiar local landmark and draw it to scale next to the Sears Tower. May 3  is Internation Tuba Day which you can talk about a Tuba and why it is so important in a band and go into other instruments you may not have talked about yet. Book (1) in addition to what Grandma suggested for National Teacher Appreciation Week suggests have the children write stories about what their "ideal" teacher would be like.
May 4 has three birthdays; one in 1796 of which Horace Mann, American educator and author considered a pioneer in the development of public education in the United States; second, in 1959 Randy Travis, country singer, and Susan, "Sesame Street" character, were born.
In 1494 Christopher Columbus landed on the island of Jamaica. In 1626 The Dutch colonial administrator Peter Minuit landed on Manhattan Island. He later bought the island from its Indian Inhabitants for beads and trinkets worth about $24. In 1776 Rhode Island became the First American colony to declare its independence from Great Britain. In 1884 The First photograph of a Lightning Flash was taken. In 1897 J. H. Smith patented the Lawn Sprinkler. Book (1) says to "Tell your (children) that lightning is a visible flash of electrical charges between two clouds or between clouds and the ground. There are several different forms of lightning. Forked lightning branches out like the forks of a tree limb. Streak lightning is a single line. Ribbon lightning consists of two or more parallel streaks. Beaded lightning appears as a broken line. A special kind of ball lightning, called St. Elmo's fire, looks like a ball and is seen near airplanes and ships. Discuss the dangers of lightning. Then have your (children) each prepare a poster that depicts a type of lightning and includes a safety rule beneath the illustration. In 1927 The Academy of Motion Picture Arts and Sciences, which annually awards Oscars, was formed.
In 1975 Major League Baseball's Millionth Run was scored by Bob Watson of the Houston Astros. In 1989 Magellan, a U.S. space probe destined for Venus, was launched from the space shuttle Atlantis.
It was Children's Day in China and National Weather Observer's Day. It was also Thank your School Librarian Day which you may want to do something special for your librarian.
May 5 in 1818 Karl Marx, German political philosopher who laid the theoretical foundations of modern communism, was born. In 1867 Nellie Bly (real name: Elizabeth Cochrane), American journalist, was born. In 1910 Leo Lionni, children's book author and illustrator, was born.
In 1809 Mary Kies of Connecticut became the First Woman to Receive a Patent in the United States, for a process for weaving silk and straw. In 1847 The American Medical Association was formed in Philadelphia. In 1904 Cy Young of the Boston Americans pitched Major League Baseball's First perfect Game. In 1925 John T. Scopes, a biology teacher in Dayton, Tenn., was arrested for teaching the Theory of Evolution. In 1956 Jim Bailey became the First American Runner to Run a Mile in under 4 minutes. Book (1) says, "On the anniversary of the first sub-4-minute mile by an American runner, give your (children) this math problem to do in their heads: What is the average speed (in mph) of a runner who finishes a mile in 4 minutes?
In 1961 Alan B. Shepard became the First American in Space. It was also Children's Day in Japan and Korea. May 5 is also National Letter Writing Week (first week) and Book (1) suggests having the children write to someone describing the learning experiences they have had this year. It was also Cinco De Mayo in Mexico and many Mexican people here also celebrate it here in United States. Book (1) says to "Tell your (children) that Cinco de Mayo (the fifth of May) honors the Mexican military victory over French troops at the town of Puebla, Mexico, in 1862. The Mexicans, commanded by Ignacio Zaragoza, were outnumbered three to one. May 5 is a national holiday in Mexico, and people of Mexican descent everywhere celebrate the victory with bands, fireworks, and reenactments of the battle. Have students compare the origin of this patriotic celebration with that of Bastille Day (France) and Independence Day (United States).
May 6 1856 Robert Edwin Peary, American Arctic explorer credited with being the first person to reach the North Pole, was born, In that same year of 1856 Sigmund Freud, Austrian neurologist and founder of psychoanalysis, was born. In 1931 Willie Mays, American baseball superstar, was born. Then in 1948 Shasta the Liger (half lion, half tiger) was born. Book (1) says, "On the anniversary of the birth of Shasta the liger, ask younger students to combine two animals and name and draw the result How about arhinoceros and a lion,  a zebra and a bear, or a giraffe and an elephant?
In 1840 "Penny Blacks"--the First Adhesive Postage Stamps--went on sale in England. In 1889 The Eiffel Tower in Paris was completed. In 1915 Babe Ruth hit his first home run. In 1933 Richard Hollingshead was issued a patent for an Outdoor Drive-in Movie Theater. In celebration of Richard Hollingshead's patent for an outdoor drive-in movie theater, let the children enact a pretend movie theater of their own with play cars, puppets, or actors themselves pretending to drive a car or do an outside theater with the TV on an enclosed porch. Use some imagination. Or plan a time to go as a family to an outdoor theater near you. In 1937 the Airship Hindenburg Exploded at Lakehurst, N.J. In 1954 Roger Bannister of England became the First Person to Run the Mile in Less than 4 minutes. His official time was 3:59:4. In 1960 President Dwight Eisenhower signed the Civil Rights Act, aimed at making voter registration fair. In 1976 An earthquake measuring up to 8.9 on the Richter Scale devastated towns in northeastern Italy. It is also Tinjaua in Romania. Book (1) says, "Tinjaua is an ancient planting festival held in villages throughout Maramures, a mountainous area in northern Romania. Village elders select one farmer to be the first to plow the fields. The farmer then sits on a plow covered with flowers and is paraded through the village. Ask your (children) to make miniature plows from toothpicks or craft sticks and to decorate them with real or paper flowers. They can then present these plows to farmers or gardeners they know.
May 7 1774 Sir Francis Beaufort, British naval officer who developed a scale to measure wind force, was born. In 1812 Robert Browning, English poet, was born. In 1833 Johannes Brahms, German composer, was born. In 1840 Peter Ilich Tchaikovsky, Russian composer, was born. It might be good to look for different music by these composers for the children to see and hear. In 1909 Edwin H. Land, American inventor, was born. In 1932 Noony Hogrogian, Children's author and illustrator, was born. Book (1) says "He received the Caldecott Medal in recognition of her outstanding illustrations for the picture book Always Room for One More, which was written by Sorche Nie Leodhas. Then challenge the children to find a favorite picture book and create a new illustration or cover for it. Next, tell them that they've each been awarded the Caldecott Medal for their creations, and have them write speeches accepting their awards. Finally, ask the kids to show their artwork and read their speeches to small groups."
In 1789 The First presidential inaugural Ball was held in honor of George Washington. In 1824 Beethoven's Ninth Symphony was performed for the first time. Book (1) starts with the question, "Do your (children) know what's unusual about Beethoven's Ninth Symphony? It ends with lyrics. Beethoven was the first major composer to write a symphony that included lyrics. The words he selected for the finale were taken from Johann von Schiller's poem "Ode to Joy." Beethoven had always loved the poem and had long thought of setting it to music. Tell your students that Beethoven "heard" his when he composed it. Play part of the symphony for your (children) and ask ... for their reactions."
In 1915 The British liner Lusitania was attacked and sunk by a German submarine. In 1934 Fishermen removed a 14-pound Pearl from a giant clam in the Philippines. In 1962 The Telstar Communications Satellite was launched. In 1986 Patrick Morrow became the First Person to Climb the Highest Mountain on each of the seven continents. Book (1) now says to see if the children can name the highest mountains in each of the continents and point it out on a map.
May 8th in 1753 Miguel Hidalgo, Mexican priest known as "the Father of Mexican Independence," was born. In 1884 Harry S. Truman, 33rd president of the United States, was born.
In 1541 The Spanish explorer Hernando De Soto sighted the MIssissippi River. In 1864 The Geneva Convention established the International Committee of the Red Cross. In 1877 The First Dog Show was held at the Hippodrome in New York. In 1879 George Selden filed for the First Patent for an Automobile. In 1886 Coca-Cola was sold for the first time. Book (1) says to "Explain to your (children) that the fizz in Coca-Cola and other soft drinks results when carbon dioxide is released and forms bubbles (the gas is put into the liquid ahead of time). The let the children make their own soft drinks by stirring 1 teaspoon of baking soda into a glass of lemonade or fruit juice." Talk about the effects of Coca-Cola on our bodies and why they are trying to change it for people. Do some research and find out how aspartme in the new diet pop affected some people badly and ask the children what they think Coca-Cola should do with their pop situation.
In 1915 Regret became the First filly to win a kentucky Derby. In 1945 The Alies celebrated V-E Day (Victory in Europe Day) as Germany surrendered. Talk about World War II why this was so important.I
In 1961 The First seawater Conversion Plant opened. In 1978 Reinhold Messner completed the First ascent of Mt. Everest with no Supplemental Oxygen.
This day is also No Socks Day. Grandma can relay to this because when the weather starts changing and Grandma's feet also change in wanting no socks either. It is also Stork Day in Denmark. Something to research about.
May 9th 1800 John Brown, American abolitionist, was born. In 1860 Sir J.M. Barrie, Scottish novelist and creator of Peter Pan, was born. Talk about this fabulous story and do some research about it.In 1873 Howard Carter, English Egyptologist who discovered the tomb of King Tutankhomen, was born. In 1916 William Pene Du Bois, children's author, was born.
In 1502 Christopher Columbus began his fourth and final voyage to the New World. In 1754 The First Political Cartoon published in an American Newspaper, titled "Join or Die," appeared in Benjamin Franklin's Pennsylvania Gazette. In 1899 John Burr of Agawam, Mass., patented the Lawn Mower. In 1927 Days before Charles Lindbergh's historic transatlantic flight, two French airmen, Charles Nungesser and Francois Coli, disappeared during an attempted Transatlantic Flight from France to New York. In 1988 Fire fighters in Warren, Mich., Rescued 14 Ducklings Trapped in a Sewer. Book (1) says, "To rescue the trapped ducklings, four fire fighters removed the heavy sewer grate, then one of them climbed down and got the 14 babies. Have older students each find the name of another animal's babies, such as the oyster (spat), swan (cygnet), turkey (poult), eel (elver), pigeon (squab), or kangaroo
(joey). Then let the kids try to stump (you). They tell you the name of the offspring, and you try to identify the parent. Younger children might enjoy reading Make Way for Ducklings by Rober McCloskey." Make some ducks to go along with the Duck stories. Make one of your own with all the animal babies. One story Grandma has read to the children and used the puppet ducks is Five Little Ducks but she cannot remember the author right now. 
In 1990 A group of 6th graders won an invention contest with a No-Drip Ice Cream Cone. Book (1) says to "Tell your students that the 6th graders who invented a dripless ice cream cone created their own recipe and made a traditional cone topped with a saucer-sized rim. (they used confectioners' sugar to seal the seams.) Challenge your students to think of ways to improve a commonly used item." Maybe they have ideas for a No drip Ice cream cone themselves.
May 9th is also Windmill Day in Holland. Book (1) says, "To celebrate Holland's Windmill Day, ask older students what windmills are used for (to pump water and drive machinery). Then challenge teams of students to create working miniature windmills using any or all of the following materials: milk cartons (for the base), (Grandma would say lysol wipe towel cleaner containers), pencils or drinking straws (for the shaft), string (to attach to the shaft), cardboard, paper, craft sticks, toothpicks, fabric scraps, paper clips, pushpins or thumbtacks, (Grandma's thought of clay or plaster), and glue. Tell the teams that their windmills will have to be able to lift a paper clip. Test the finished windmills outdoors if it's windy enough or indoors with your (children's) lungs providing the wind. Which designs were most effective in lifting the paper clip? Why?
May 10 1775 Robert Gray, American sea captain who was the first seaman to carry the flag of the new United States around the world, was born.In 1620 Mary Honeywood of Kent, England, died at the age of 93. She had 16 children, 114 grandchildren, 228 great-grandchildren, and 9 great-great-grandchildren. Book (1) says, "In honor of Mary Honeywood of Kent--who had so many descendants--have your (children) visit a local Senior citizens' center and offer to create family trees for the members. Or have the kids each do a family tree for an older member of their own family or for a royal, political, or fictional family."
In 1869 The First Transcontinental Railroad was completed as a golden spike connecting the Union Pacific and the Central pacific railroads was driven at Promontory, Utah. Book (1) says, "Tell your (children) that during the civil War, two construction companies were chartered to complete a transcontinental railway. One track headed east from Sacramento, California, while the other headed west from Omaha, Nebr. When the tracks met, a golden spike was hammered into place. Telegraphs clicked a short message from coast to coast: "Done." Have your (children) locate Omaha and Sacramento on a map and use the map scale to estimate the distance between them."
In 1872 Victoria Woodhull became the First Female Presidential Canidate, receiving the nomination of the National Radical Reformers. Book (1) says "Help your (children) explore the evolution of the women's rights movement. To begin, have them write down questions they'd want to ask Victoria Woodhull about the status of the women's movement in 1872. Then have the kids work in groups to research her life. Next, ask one child to portray Victoria Woodhull while other students portray contemporary women's rights leaders. Hold a forum in which these leaders react to contemporary women's issues.
In 1876 The Centennial Exposition opened in Philadelphia. Nine million visitors attended, each paying 50¢ admission. In 1924 J. Edgar Hoover was named the First Director of the FBI. In 1930 Chicaago's Adler Planetarium became the First planetarium in the United States. In 1981 Francois Mitterrand was elected.
May 11th was Mother's Day the (second Sunday in May). Book (1) says, "Mother's Day was started by a philadelphian named Anna Jarvis. After the death of her mother in 1905, Jarvis wanted to find a way to honor not only her own mother, but all mothers everywhere. Ask your (children) to think of other ways mothers could be honored. Encourage them to use the ideas to honor their mother.
It is also Festival of Cats day in Belgium (second Sonday in May). Book (1) says, "Since 1938, Belgians have celebrated the Festival of Cats by dressing up as cats and marching in a parade. Have your students name well-known cats from literature--for example, the Cheshire cat, Puss in Boots, and the three little kittens. Encourage them to read the stories or poems involving these famous felines. Then invite students to dress up as their favorite cat for a classroom parade."
May 11th 1888 Irving Berlin, American composer, was born. Book (1) says, "Irving Berlin wrote more than 1,500 songs during his distinguished career. He also wrote the scores for 16 Broadway shows. These achievements are especially astounding in light of the fact that Berline never received any formal musical training and couldn't read or write musical notation. He needed special pianos and musical secretaries to transcribe his ideas into notes on a scale. Though he was born in Russia, he became one of America's most popular songwriters with such quintessentially American songs as "God Bless America," "White Christmas," "Alexander's Ragtime Band," "Easter Parade," and "There's No Business Like Show Business." Play some of Berlin's music for your (children). Then play some songs by composer Jerome Kern, one of his contemporaries. In what ways is their music similar? In what ways does it differ?"
In 1894 Martha Graham, American Modern dancer, was born. In 1904 Salvador Dali, Spanish artist, was born. Book (1) says, "Salvador Dali was born in the town of Figueras, Spain, near Barcelona. Have (the children) locate his birthplace on a world map. Then tell them that Dali's artistic talents emerged early; Before turning 10, he'd painted two outstanding works. Dali is best remembered, though, for his contributions to the surrealist movement. In an attempt to express a different reality, surrealist painters juxtaposed and combined images that normally wouldn't go together. Share photographs of Dali's work with your (children). Point out the meticulous detail and sharp clarity of the paintings. Then challenge the kids to create a surrealistic drawing or painting of their own."
In 1858 Minnesota became the 32nd state. In 1911 Glacier National Park in northwestern Montana was created. In 1949 Israel became a member of the United Nations. In 1950 President Harry Truman dedicated the Grand Coulee Dam in Washington State. In 1986 Fred Markham set a World Speed Record for a Human-Powered Vehicle. He pedaled a streamlined, enclosed bicycle 65,484 mph.
May 12th 1812 Edward Lear, English writer of nonsense verse, was born. Book (1) says he has been called "the poet laureate of the limerick." Read aloud several limericks from his Book of Nonsense, and invite the children to illustrate them. Next, go over the meter and thyme scheme of limericks. Then have the kids work ... to write and illustrate silly limericks of their own. Compile their work into a ...book."
In 1820 Florence Nightingale, English nurse considered the founder of modern nursing. Book (1) says, "to commemorate International NursesDay--invite a nurse to your home (Grandma does not advise this). Students can conduct background research about Nightingale's public service, then prepare interview questions about the impact of ther ideas on today's nurses.
In 1962 Emilio Estevez, American actor, was born.
In 1621 Edward Winslow and Susanna White became the First Couple to Marry in Plymouth Colony. In 1875 Chicago beat St. Louis, 1-0, in major league Baseball's First Shutout. In 1922 A 20-ton Meteorite landed near Blackstone, Va., creating a 500-square-foot crater. In 1937 The coronation of George VI of England beame the First event Broadcast Worldwide. In 1980 Maxie Anderson and his son Kris began the First nonstop Baloon Flight across North America. It is Eat What you want Day so book (1) says, to "have your (children) create fantasy recipes and menus. Younger children might also have fun transforming the classroom into a restaurant to serve their fantasy meals. Have the children work ...to develop the restaurant's name, decor, menu design, and so on. You may want to videotape or photgraph the children enjoying their food fantasies." It is also National Hospital Day, Limerick Day
May 13 1914 Joe Louis, American boxer who held the world heavyweight title from 1937 to 1949, was born. In 1938 Norma Klein, children's author, was born. In 1950 Stevie Wonder, American singer and songwriter, was born.
In 1607 Jamestown, the First permanent English Settlement in America, was established in Virginia by Captain John Smith and 105 colonists. In 1918 The First U.S. Airmail Postage Stamps were issued. In 1942 The First Cross-country Helicopter flight began in Stratford, Conn. In 1980 Henrick Doornekamp, a Dutch farmer, Ran the New York City Marathon Wearing Wooden Shoes. Book (1) says, "Ask your (children) to gather all kinds of sport shoes (tennis, running, walking, golf, bowling, football, basketball, soccer, and so on) as they can. Then have them identify the special features each kind of shoe has to enhance an athlete's performance in the particular sport."
In 1981 Pope John Paul II was seriously wounded by a Turkish gunman in St. Peter's Square. The pontiff later recovered from his wounds. In 1989 Robert Commers set a world record when he jumped Rope 13,783 times in 1 hour. Book (1) says to challenge your children to set some records of their own. You'll need jump ropes and stopwatches.... count the number of jumps completed by a partner in 1 minute. Can the kids figure out how many jumps they'd make in an hour at the same pace? How would that stack up against Commers's record? How many jumps did Commers average per minute?"
It is also American Bike Month. Book (1) says, "Young children will enjoy rolling into American Bike Month by reading Bicycle Race, a picture book by Donald Crews. When they've finished the book, have a ...discussion about bicyles. Have your (children) ever had a bicycle--or tricycle--race? Ask the kids to write a true or fictional story about their bike."
May 14 which is Wednesday is considered "The Stars and Stripes Forever" Day. In 1686  Gabriel Daniel Fahrenheit, Dutch instrument maker who developed the Fahrenheit thermometric scale, was born. In 1727 Thomas Gainsborough, English portrait and landscape painter, was born. In 1929 George Selden, Children's author, was born. In 1944 George Lucas, American movie director and producer, was born. In 1952 David Byrne, rock musician and songwriter, was born.
In 1796 The First Smallpox vaccination was administered by Dr Edward Jenner. In 1804 The Lewis and Clark expedition se out from St. Louis, Mo. In 1897 John Philip Sousa's march "The Stars and Stripes Forever" was performed for the first time. Book (1) says, Younger (children) can "perform" John Philip Sousa's "Stars and Stripes Forever" with construction paper instruments and flags. Have the children draw various marching band instruments on construction paper, then cut them out. Next, have them draw and color the American flag on one side of a piece of large, white construction paper. On the other side, have them glue their construction paper instruments. Now that they've made their "instrumental flags," play a recording of Sousa's famous march and let them parade around the" house or in the yard.
In 1904 The First Olympics held in the United States opened in St. Louis, MO. In 1930 Carlsbad Caverns in New Mexico became a national park. In 1955 The Warsaw Pact, which created a military alliance among the Soviet Union and seven Eastern European nations, was signed. Book (1) says to "Ask your (children) to consult encyclopedias or other reference books (Grandma says to check on the computer.) to find out which eight nations originally formed the Warsaw Pact. Then have the kids locate these nations on a world map. Do all of them still exist? Have their forms of government changed since 1955? How? Do your students know which organization (NATO) the Warsaw Pact was intended to counterbalance?" In 1963 The First Solar-Powered Airplane was patented. In 1973 Skylab 1, the first orbiting U.S. space station, was launched.
This is all for today. Grandma has to go help with the voting tomorrow. Will enter stuff starting Wednesday. Take care.
Good Morning Folks! We will be covering the lessons for Wednesday this week and Thursday. Grandma has been covering Ukraine and Russia. She gave you lessons for last week along with Monday and Tuesday. I hope you have been keeping up with your tasks for the last two weeks; Childrobotics; extra reading; language of ABC's, words, spelling, and vocabulary; writing and Journaling; Math (counting and using eggs, Easter bunnies, Easter hats, chicks, etc.); older children going into business should learn typing, algebra, bookkeeping, and calculators as well as all that is possible about computers. Be sure to cover yearbooks, family scrapbooks, recipes, and the newspapers.
Next we will cover the lesson from Grandma's book (4) covering Geography Focus: using a globe.
"Molly"s Pilgrim by Barbara Cohen illustrated by Michael J Deraney (William Morrow 1983)
Summary:
Molly and her family are Russian Jews, recently immigrated to the United States. In the small town where they finally settle, Molly endures the taunts of classmates who are not used to newcomers. When the teacher assigns students to make clothespin dolls representing Pilgrims for a Thanksgiving display. Molly's troubles seem to increase: the doll her mother makes for her shows not the typical Pilgrim, but a Russian woman dressed much like Mother herself. Mother explains that this is appropriate, for she, too, is a pilgrim: one who travels to another land in search of religious freedom. Molly's classmates make fun of her doll, until Molly explains it and her teacher backs her up by describing the Jewish harvest holiday on which the American Pilgrims based the first Thanksgiving.
Preparation:
Invite (the children) to tell what they think a pilgrim is. Definitions at this stage will probably be far-ranging. Write them on the chalkboard, for revision after students have read the book.
As You Read
Help (the children) use a globe to locate Russia and the United States. Invite volunteers to use a length of string to mark a route westward from Russia to America and to name some of the countries and the ocean that Molly and her parents had to cross in their journey. Explain that in those days before airplanes, immigrants traveled by land, then by ship, In voyages that might take several months.
Use questions like the following to encourage students to respond to the conflicts that Molly faces:
What problems does Molly face at school? Why does Elizabeth tease her? How does it feel to be teased?
Why doesn't molly want her mother to come to school? How does Molly learn that she was mistaken to be embarrassed about her mother?
What do the pictures tell about the time when the story takes place? Do problems like Molly's take place in classrooms today, too? Why?
What do Molly's classmates learn about Pilgrims by the end of the story? Why does their attitude toward Molly change?
Extending Geography Skills:
Comparing a Globe and a Map
Display a world map on a wall above your globe. Explain that the globe is a map that has been printed on a hollow sphere, and that it gives a truer picture of Earth and its land and water than a map because its surface is rounded like the Earth's surface is. Then ask (the children) to identify the main way in which a world map is different from a globe (a map is flat). Invite a volunteer to locate Russia and the United States on the glove again, then find them on the map.
To help (the children) understand that flat maps are not at accurate in their portrayal of the area of land and oceans as globes are, direct attention to the North and South polar regions, especially Greenland, on the globe, and ask (the children) to find these regions on the flat map and encourage them to tell about the size-difference between them. Invite (the children) to suggest why people nevertheless make and use maps (for general reference: to show small areas up close; to show the location of towns, cities, and highways; to show national boundaries; to show mountains, hills, and flat areas). If possible, assemble a collection of different kinds of maps for (the children) to study and discuss."
(As part of this learning try to figure out on the map and/or globe a route from Russia the Pilgrims may have traveled on the Boat.)
"Making Connections
Language:
What Does It Mean? In the story, Mama uses various Yiddish words and expressions. First, ask (the children) to guess what the words might mean in the context of the sentence in which they are used.
Then provide the English translations:
   shaynkeit=beautiful
   Malkeleh-Little Queen. (The name "Molly" is derived from it.)
   paskudnyaks=rascals
   nu=so, well"
Invite (your children) if they speak other languages to contribute words and expressions and their meanings to a list of Wonderful Words. Post the list and keep adding to it if you are learning these languages together or they are from a past country they lived in.
"Literature:
Dramatic Retelling   Discuss the three basic problems Molly faces: how to cope with her treatment by her classmates; how to explain to her mother what the assignment is at school and why the doll doesn't seem to meet the description given in the assignment; how to explain the doll to her classmates and teacher." To learn cooperative learning form the following situations into a film or skit to present somewhere ( at a hospital, church, cooperate group, old folks home, child care facility, etc.):
note the sequence of actions the group decides on
assign roles in the skit
organize and direct a brief rehearsal
present their skits in the story sequence
Tape-record the skits to listen to, to make sure all the important incidents are there.
Add to the tape, if necessary, with narrative to connect the incidents.
Listen to the finished tape as they review the story and look at the pictures.
"Social Studies:
Modern-Day Pilgrims  Encourage (the children) to relate the story to current news about immigrants (pilgrims) from other countries, such as Vietnam, Korea, Haiti, Cuba, Cambodia, (Mexico) and Guatemala. Discuss what freedoms or opportunities the modern-day pilgrims are seeking in their new home. If possible, ask (your children) to interview a newly-arrived pilgrim to find out when the pilgrim came, where he or she came from, what he or she was looking for, and what problems had to be faced on arrival. Encourage interviewers to make notes and compile them into an oral presentation for the class. The presenter should also indicate on a globe or map the country from which the pilgrim came."
(Make sure if they are from Mexico that they are not here illegally by asking to see a green card they should have with them.)
"Art:
Civics:
Welcome Packages  Ask the (children) to imagine a child or person from another country or as most of originated from other countries. Discuss and list what the new person might want to know about the neighborhood, town or city, yourselves(make sure they are trustworthy first). Discuss what things might make them feel welcome in your area, neighborhood, home, church, or organization. Suggest and make a list of items to form in a welcome package such as maps, lists, descriptions, and pictures. Act out how to make newcomers feel welcome. Be careful because helpful people in some neighborhoods may not turn out to be so helpful as experience just lately has taught my husband and myself. Not all people to day can be so trusting.
To extend this learning think of other packages that could be formed for people in the neighborhood you know well that may become sick, have a loved one die, need help(figure out some things as needing money for a sick family member, or a funeral, etc.) also ways we could help family members as older people, etc. Other type of packages might be for a birthday, weddings, and new babies. Make use of the time.
"Thinking Skills:
Media Contrasts Molly's Pilgrim is retold in a video which won the 1985 Academy Award for best-live action short (24 minutes). It is available on a cassette from Phoenix Films. After showing the film, discuss how it is different from the book (set in modern times; new characters: some new scenes). Encourage students to tell what they would add or subtract from the story if they were the film director.
(Might even check with the library-they may even have a copy to watch.)
Another story for the day is Russian and American in Grandma's Book (6) called
"Here Comes the Cat! by Frank Asch and Vladimir Vagin (Scholastic, 1989.32 pp.)
This story, about a big cat who comes to a community of mice, represents the first artistic and literary collaboration between an American and a Russian. Designed by popular American author/illustrator Frank Asch, and painted by Russian artist Vladimir Vagin, Here comes the Cat! reinforces the old message that "all we have to fear is fear itself." The book, which is written in both English and Russian, helps to underscore how unfair and faulty negative prejudice can be.
Before Reading Here Comes the Cat!
Have the children talk about times they may have worried about something that might happen. Is this any different from worrying about an occurrence that has already taken place or is definitely in the future? How?
After Reading Here Comes the Cat!
What were the mice worried about? Why were they so worried? Why was the story's ending a surprise?
Follow-up Activities
Connecting Prejudice and Fear
Have the children explain how fear is spread in the story (e.g., by word of mouth). Introduce the word "prefudice" into the conversation. Help the children to understand that the word "prejudice" has to do with prejudging. Then, help (the children) make the important connection between prejudice and
fear by" filling out a chart. This chart is made easy by taking a piece of paper and folding it in half lengthwise. On one side of the sheet put the heading "Things some people don't like before they experience them." as flying in an airplane, snakes, spinach, broccoli, etc. On the other side of the paper put the heading "What they're afraid of."
"Have (the children) tell what fear is associated with each item (e.g., (the children) may fear tasting broccoli because it is a green vegetable or (the children) may fear snakes because they think they are slimy). Ask how many of the items were actually experienced by the students, and how many were prejudged.
Book Collaboratives
Explain to the (children) that the book's collaboration between a Russian and an American is an incredible achievement because for many years a "cold war" existed between the two powers, with each side regarding the other as an enemy. Help the (children) understand that a cold war is largely a war of words--with both sides fearing and mistrusting the other side. Invite students to create their own collaborative books based on the format of Here Comes the Cat! One or more students may write the text, while one or more other students may act as illustrators, interpreting the text with accompanying art work.
Billingual Dialogue Balloons"
Provide the children with sheets of paper. On the paper or papers, big round cartoon language balloons should be drawn. Inside the balloons write the following English words with their translation in certain languages also written in the balloons. Therefore, inside each balloon will be a line headed English, a second with translation, and a third Other language. Here are some words the book suggestion using. You can add more if you wish and make as many of these balloons as you wish. They can be posted somewhere in your home or elsewhere if you wish. The words given are Hello!; Goodbye!; Here comes the _____!; My name is _______?; What's your name?; Where do you live?
Next week we will cover Russian-American The Keeping Quilt, American (Colonial) The Quilt Story, and other colonial stories. Grandma will also try to cover Sarah, Plain & Tall and the Little House on the Prairie. Then we will go into Australia and South America to finish the School lessons. We will also be covering information for the rest of the calendar for 1700's, 1800's, and go into the 1900's. Grandma will try to finish the science experiments from her science book and what she can also mention of the Algebra. She will also finish the Bible before she finishes. I will be advertising to mentor year around and give lessons for the summer as well as etiquette birthday parties for the children. Please be watching for I have some corrections to make and material to add all the time. For now Grandma has some more days in the Calendar History Book(1) to give you through Easter Sunday.
Calendar History for April 15 includes two birthdays. One in 1452 for Leonardo Da Vinci, Italian artist, scientist, and inventor. Book (1) says, " Tell your (children) that Leonardo da Vinci--inventor, painter, sculptor, and scientist--is considered one of the most intelligent people in history. But do the kids think da Vinci was right when he said that a person's arm span and height are approximately equal? Have your students write down their opinions, then conduct a simple experiment to find the answer. Ask the kids to measure one another's arm span (from tip to tip of the middle fingers on outstretched arms) and height (standing against a wall). Chart the data, then tally the number of (children) whose arm span and height measurements are 1 inch or less apart. Also calculate the average arm span and average height. Was da Vinci right? (All Grandma knows that her husband who is 5'5" to her 5'1" gives him almost a six inch more reach than her at doing things. The same with her daughter and mother to her short height.)
The second birthday is in 1832 for Wilhelm Busch, German caricaturist considered the father of the modern comic strip.
The events for April 15 include that of 1621 The Mayflower sailed from Plymouth, Mass., on its first return voyage to England. The next event happened in 1817 The First American School for the Deaf was opened in Hartford, Conn., by Thomas Gallaudet. In 1870 The Metropolitan Museum of Art was founded in New York City. Then in 1895 Josephine Blatt lifted 3,564 pounds, a record that still stands.
It is also Income Tax Day when all tax statements should be given into the government. It is also Festival of the Sardine (Spain) and National Griper's Day. Book (1) says under "Complaints, complaints
To mark National Griper's Day, ask your (children) to look up the definition of "gripe," then make a list of 5 to 10 things that irritate them. Challenge the kids to fix at least one of these things."
April 16th has 5 birthdays and 2 events. In 1867 Wilbur Wright, American inventor and aviator was born. In 1889 Charlie Chaplin, English silent film star and comedian was born. In 1912 Garth Williams, children's illustrator was born. Book (1) says, " Garth Williams illustrated several stories by Margaret Wise Brown. In Wait till the Moon Is Full, Brown writes about a little raccoon who asks a lot of questions about the dark. His mother makes him wait until the moon is full to find the answers. Have your (children) brainstorm for things they see at night--babies being bathed, airplane lights in the sky, families watching television, and so on. Share the poem below with your (children), then have them turn their nighttime images into verse. Of course, invite the children to illustrate their poems.
      When the moon is full
       I hear geese
       Cry ow ow
       Like a hurt child.
       I see deer eyes
       Shine like
       Candles.
The other birthdays are of John Christopher, children's author in 1922 and in 1947 Kareem Abdul-Jabbar, basketball center who set the NBA career scoring record was born. 
The events for April 16th are in 1789 President-Elect George Washington left Mount Vernon for New York City for his inauguration. In 1862 Congress abolished slavery in the District of Columbia.
April 17th marks the birthday of Boomer Esiason, professional football quarterback, born in 1961 also the beginning of the "Sesame Street" character Sherlock Hemlock. Events for the day are in 1492 King Ferdinand of Spain agreed to finance Christopher Columbus's voyage seeking a westerly route to the Orient. In 1524 Giovanni Verrazano, a Florentine navigator, discovered New York Bay. Book (1) says, "Tell your (children) that Christopher Columbus made four voyages to the New World." Research about each of the trips and list two important facts about each of his trips.
In 1629 The First Commercial Fishery was established. For book (1) discuss if all of you in your family like fish and what kinds best if you do. Plan to try ones you have not and a big fish fry upon doing some fishing. In 1704 The First Successful Newspaper in American, The News-Letter, was published in Boston by John Campbell. 
It is Alp Aufzug of Switzerland  today. It is also Professional Secretaries Week (third or fourth week in April).
April 18th is the celebration of an 1857 birthday of Clarence Darrow, American lawyer and in 1962 Wilbur Marshall, professional football player.  In 1775 Paul Revere began his famous ride from Boston to Lexington, Mass., warning the colonists that the British were coming. In 1818 President James Monroe signed a bill creating the state of Illinois.
April 19th is commemorating three birthday's. One is in 1721 of Roger Sherman, American political leader who was the only person to sign all four of the following documents: the Continental Association of 1774, the Declaration of Independence, the Articles of Confederation, and the Constitution. In 1883 Richard Von Mises, German mathematician was born. Book (1) says, " Mathematician Richard von Mises did significant work in the area of probability. Introduce even young children to probability with this simple activity. Fill a bowl with green and red grapes ... but include a fewer of one color. Ask the children to predict their chances of getting a green (or red) grape if they pick one grape while blindfolded. Record the predictions, then blindfold each child and have him pick a grapes As the kids eat their grapes, discuss the concepts of "probability" and "hypotheses" to help them understand what their predictions involved." Do more probability games with candies and foods. Do to a happening of 1985 Grandma feels is important here in which Susan Montgomery Williams of Fresno, Calif., blew the Biggest Bubble Gum Bubble on Record. It was 22 inches in diameter. Upon it being Diameter Day "Have your (children) draw a circle with a 22-inch diameter, the diameter of the biggest bubble gum bubble ever recorded. To reinforce the idea of diameter, declare this "Diameter Day." Arm the kids with measuring devices (yardsticks, metersticks, tape measures) and ask them to see how many circles they can find and measure." However, start out with other things in your imaginations to measure with and other imaginary units. Measure anything you can think of and record all the measurements. Blow up balloons. Last see who can blow the biggest bubbles of bubble gum. Peanut butter removes gum by the way. It is also easy to clean from things. The last birthday is of 1903 when Eliot Ness, American crime fighter was born.
In 1739 John Winthrop, the First Colonial Astronomer, made observations of sunspots. In 1775 The American Revolution began with battles at Lexington and Concord, Mass. In 1865 Abraham Lincoln's Funeral Service was held in the Capitol. It is also Sechselauten of (Switzerland)
April 20th of course is Easter Sunday this year. It is also called Cuckoo Day in (Europe) and Paro Tsechu of (Bhutan). In 1850 Daniel Chester French, American sculptor whose work includes the statue of Abraham Lincoln at the Lincoln Memorial, was born. Book (1) says, "Tell your students that Daniel French first fell in love with sculpting at age 13, after building a lifelike snow sculpture of a lines and her cub. French's parents encouraged his natural talent. And at age 23, French was chosen to create a statue commemorating the Revolutionary War battle at Concord, Mass. That statue, The Minuteman, brought French immediate renown. At age 72, French crafted one of his most famous works, the stately, seated Abraham Lincoln. Share photographs of the Lincoln Memorial statue with your (children), and invite kids who've visited the memorial to describe it to the class. Which design elements make Lincoln seem powerful and majestic? Does Lincoln also seem tranquil? Have students write letters to Lincoln asking him specific questions about his life. Collect the letters, then distribute them randomly among your (children). Finally, have the kids conduct research to answer one another's questions--and letters.
The other birthdays include that of Adolf Hitler, Nazi dictator of Germany, born in 1889. In 1893 Joan Miro, Spanish surrealist painter was born. (You could do research here.) In 1962 Don Mattingly, professional baseball player was born.
The events for this day include that of 1832 in which the Hot Springs National Reservation, in Hot Springs, Ark., became the first area set aside for public recreation by federal action.
In 1836 Congress established the Territory of Wisconsin.
Have a Nice Holiday and Join Grandma on Monday!
Good Morning Folks! I am sorry for all the inconvienence. Grandma is typing at the library because of
some problems. I am going to try to keep up daily since Grandpa is giving up work now and will be 
here to take me daily as soon as we get the car running right again. Soon I should have Grandma's
machine working again also. Please be patient and Grandma will help guide the rest of the directions.
Grandma hopes you thought of a little fun for April Fools Day. I want to remind you of doing your
Childrobotics for the day along with your tasks; math; language of ABC's, words, vocabulary, spelling,
sounds; writing; assignments; journal work: yearbooks; family scrapbooks; recipes; or newspapers;
and anything else Grandma may have missed. (One little note in here: Grandma went to see "Christ
Is Son! a couple of weeks ago and it was very emotional and fantastically done. It really got to
Grandma and she felt it was well worth going to see.)Grandma is going to start out with the Bible                   
reading assignments:
Read The Demand for a Sign, Matthew 16:1-4; The Yeast of the Pharisees and Sadducees, Matthew
16:5-12, The Yeast of the Pharisees and Herod, Mark 8:14-21; Peter's Confession of Christ, Matthew
16:13-20, Luke 9:18-27, and Mark 8:27-30. Do "Did You Know? Mark 8:29 Who is Jesus? People who
saw Jesus perform miracles and heard him teach knew he was special. Peter knew just how special!
"Christ" means the person chosen by God to be the Savior of his people. The name "Son of Man" tells
us Jesus was a real human being (Mark 8:31), The name "Son of God" (Mark 9:7) tells us Jesus is
truly God." and "Did You Know? Matthew 16:18 On what rock will Jesus build his church? The rock is
the faith that Peter expressed, that Jesus is "the Christ the Son of the living God" (Matthew 16:16). In
other words the church is really built on Jesus himself."  from Faith Alive. Next read Jesus Predicts
His Death, Matthew 16:21-28, Mark 8:31-37 and Mark 9:1.
Next read The Transfiguration, Matthew 17:1-13, Mark 9:2-13, Luke 9:28-36; do "Did you Know?
Mathew 17:2 What was the transfiguration? Transfiguration means to be changed. In the
transfiguration Jesus was changed from looking like a normal person to shining brightly. Moses and
Elijah came and talked with Jesus during the transfiguration." and "Word to Remember Mark 9:7 This
is my Son, whom I love. Listen to him!" from Faith Alive. 
Then read The Temple Tax, Mathew 17:24-27; The Greatest Kingdom of Heaven, Mathew 18:1-9;
Who Will Be the Greatest, Luke 9:46-50; Who Is the Greatest? Mark 9:33-37; then do Did You Know? 
Mathew 18:3 How can we become like little children? Little children are models of strong faith. They
depend on others to meet their needs. Jesus invites us to have  a child-like faith--to trust in him
completely for forgiveness, life, and  salvation." in Faith Alive.
Read At the Home of Martha and Mary, Luke 10:38-41; Jesus' teaching on Prayer, Luke 11:1-13 and
do "Words to Remember, 11:9 Ask and It will be given to you; seek and you will find; knock and the
door will be opened to you." from Faith Alive. Then  read Warnings and Encouragements,
Luke 12:1-12; The parable of the Rich Fool Luke 12:13-21; Do Not Worry, Luke 12:22-34;
Watchfulness, Luke 12:35-48; Not Peace but Division Luke 12:49-53; Interpreting the Times, Luke
12:54-59; also read Repent or Perish Luke 13:1-9; A Crippled Woman Healed on the Sabbath Luke
13:10-17; The Parables of the Mustard Seed and the Yeast, Luke 13:18-21, Matthew 13:1-52;The
Narrow Door, Luke 13:22-30; Jesus Sorrow for Jerusalem, Luke 13:31-35; Do "Let's Live It! Luke 
13:18-19 Two Ways to Grow--Read Luke 13:18-19. God's plan for all living things is for them to grow.
Ask your mom or dad how many inches long you were when you were born. Mark that many inches
on a wall. Then stand by the wall and mark how tall you are now. People grow spiritually too. Talk
with your parents. Ask if they can see ways you have grown spiritually in the past  two years." and
"Life in Bible Times-The Shepherd's Staff--Shepherds in Palestine carried a staff with a hook at one
end. The shepherd used it to lift up a sheep that had fallen into a hole or down the side of a cliff." and 
"Let's Live It! Matthew 18:10-14 God's Not Mad At Me!--Read Matthew 18:10-14. In this story the
sheep are God's children and God is the shepherd. Wandering off and getting lost is doing something
wrong or sinful. After reading this passage, answer these questions:
How does God feel about his children? What does God do when we sin? How does God feel when
we confess our sin and are "found"?
Cut the figure of a sheep out of cardboard. For wool, glue cotton on one side of the sheep. On the
other side write, "He is happy about the one sheep that is fund." Put the sheep in your room to
remind you that God loves you even when you have done something wrong." all in Faith Alive.
Then read Jesus at a Pharisee's House, Luke 14:1-14; The Parable of the Great Banquet, Luke
14:15-24; Parable of the Lost Sheep, Matthew 18:10-14, Luke 15:1-7; also read "Life in Bible
Times -Lilies Of The Field--Flowers grew wild all over Galilee. No one planted or weeded them.
Yet God "dressed" them with beautiful petals. God will care for us too, for we are more important
to God than flowers."  
Then read Parable of the Unmerciful, Matthew 18:21-35; Parable of the Lost Coin, Luke 15:8-10;
Whoever is Not Against us Is for Us, Mark 9:38-40; A Brother Who Sins Against You, Matthew
18:15-20; Causing to Sin, Mark 9:42-50; Parable of the Lost Son, Luke 15:11-32; The Parable of the
Shrewd Manager, Luke 16:1-14; Additional Teachings, Luke 16:16-18.Then go on to read
The Rich Man and Lazarus, Luke 16:19-31 doing "Did You Know? Luke 16:22 Is there life after death?
Yes. In Jesus' story about the rich man and the beggar Lazarus each one died. But after that both
were able to talk and think and see and feel! After our bodies are dead, we will still be alive."
as written in Faith Alive. Now read Death of Lazarus, John 11:1-16; and answer "Did You Know?
John 11:15 Why did Jesus let Lazarus die? Jesus didn't come immediately when Lazarus' sisters
 sent for him. Jesus let his friend die. But Jesus brought Lazarus back to life again. This miracle
showed Jesus' power over  death." in Faith Alive. Then read Jesus Comforts the Sisters,
John 11:17-37; Jesus Raises Lazarus From the Dead, John 11:38-44. Then read The Plot to Kill
Jesus, John 11:45-57; Then go on to read Sin, Faith, Duty, Luke 17:1-10 and The Coming of the
Kingdom of God, Luke 17:20-37; The Parable of the Persistent Widow, Luke 18:1-8; Parable of the
Pharisee and the Tax Collector, Luke 18:9-14; Divorce, Matthew 19:1-12, Mark 9:1-12; The Little
Children and Jesus, Mathew 19"13-15, Mark 10:13-16, Luke 18:15-17; do "Let's Live It!  Mathew
19:13-15 Jesus Loves the Children--Read Matthew 19:13-15. Just as Jesus loved the little children in
 this story, he loves you today. He doesn't put his hands on you as he did these children, but actually
he does something just as special for children today.
When babies are baptized, Jesus takes them in his arms! By a wonderful miracle, the Holy Spirit
gives them faith in Jesus as their savior. They become children of God. Ask your parents the date
you were baptized. If they don't know, they can call the church where it happened. Ask Mom or Dad,
too, if you received a baptismal cloth or candle or other special reminder of the day Jesus took you
in his arms." and "Let's Live It! Mark 10:13-16 Never Too Little ... Or Too Big--Parents were bringing
their children to Jesus, but the disciples tried to keep them away. What did Jesus say about that?
Read Mark 10:13-16. As far as Jesus is concerned, no one is too little to come to him.
Some people think babies are too small to be brought to Jesus in Baptism. They say babies are too
little to believe in him. What did Jesus say about that in Mark 10:14-15? Little children, he says, have
the kind of faith everyone should have! No one is ever too little to believe. In fact, that's the whole point
 of Baptism. At Baptism, the Holy Spirit comes into the baby's heart and gives the child faith in Jesus.
Real faith. The baby believes in Jesus as Savior.
It's nice to know no one is ever too little for Baptism. But here's something else that's nice: No one is
ever too big for Baptism. If you've never been baptized, you can be now--with the same wonderful
results. And if you were baptized years ago, God is still working for you in your Baptism, still washing
away your sins, still giving you eternal life. You never outgrow it." as written in Faith Alive.
Now read The Rich Young Man, Matthew 19:16-20, Mark 10:17-31; read Parable of the Workers in
the Vineyard, Matthew 20:1-19; and read "Life in Bible Times-The Denarius-In the time of the New
Testament a day's pay was a single coin, called a denarius. This was enough money to buy food for
one day and to rent a small room for the night. The coin was made of silver and was usually
stamped with a picture of the Roman emperor. It looked somewhat like our dime." as given in Faith
Alive. Read The Rich Ruler, Luke 18:18-30 and do "Did You Know? Luke 18:22 Why did Jesus tell
the ruler to sell everything he had? The young man thought he had kept the commandments, but
Jesus knew that the man's riches were more important to him than God was. Jesus wanted the
young man to realize that he still needed Jesus to save him from his sins." written in Faith Alive. 
Read Jesus Again Predicts His Death, Mathew 20:17-19, John 12:20-36, Mark 10:32-34, Luke
18:31-34; The Request of James and John, Mark 10:35-45; A Mother's Request, Matthew 20:20-28;
Two Blind Men Receive Sight, Matthew 20:29-34: Blind Bartimaeus Receives His Sight, Mark 10:46-52;
A Blind Beggar Receives His Sight, Luke 18:35-43; also read Zacchaeus the Tax Collector, Luke
19:1-10; The Parable of the Ten Minas, Luke 19:11-27 and do "Let's Live It! Luke 19:11-24 Find Your
Gifts--Read Luke 19:11-24. Which lessons do you think God wants you to learn from this story?
1. God gives everyone gifts and abilities. 2. God wants me to use my gifts for him. 3. God will praise
me when I use my gifts for him.
List some things you do well. Sing? Draw? Write? Play sports? Help Others? Ask three adults who
know you what gifts they think God has given you. Ask how they think you can use your gifts to serve
God." given in Faith Alive.
Now read Jesus Anointed at Bethany, John 12:1-11; The Triumphal  Entry, John 12:12-19, Matthew
21:1-11, Mark 11:1--11, Luke 19:28-44; and do "Did You Know? Matthew 21:9 What is Palm Sunday?
Palm Sunday is the day churches celebrate Jesus riding into Jerusalem on a donkey
(Matthew 21:1-11). Crowds welcomed him as the Messiah, the Son of David. They shouted
"Hosanna," meaning "save!" People also cut palm branches to wave. Five Days later, though, in the
same city crowds shouted that he be crucified." written in Faith Alive. That is all of the Bible Grandma
will give to you until Monday's lessons. She may only have time for The Calendar Time Line
to be caught up. I will try to come and type some more before Friday. It is kind of crazy when the car
broke and had to be fixed which my husband is working on today.
Calendar Time Book History, Book (1)
We just began April on Tuesday and Friday will be the 4th.
The Project of the Month: Beyond Book Talks
This was suppose be a class group project; therefore, Grandma is going to do some improvising on
what Book (1) has given. During National Library Month (April), collect information on your child's
library areas of interest, by making two lists One is Books from the Library and Books not from
the Library. Then make a list of various topics of books and mark if they may be their favorites. This
list may consist of the topics: animals or insects, families, famous people, a history event, a state,
a country or continent, adventure, a science project, an experiment, an invention, a poem, a writer,
an artist, a nationality, a type of person, themselves, parents, a church, baptism, a comic or
comedian, an actor or actress, a sport or sportsman, a car or other transportation, a toy, a fantasy
person, a hero, a person from the Bible, classes, idea, or any thing else they can think of. Sometime
in the next few weeks they can give a report on whatever topics they want to cover. You can even
make books of them.
Following are the Observances for the Month, Weeks, and Special Days:
Monthlong Observances
Boost Your Home Team Month
Keep America Beautiful Month
Math Education Month
Month of the Young Child
National Garden Month
National Humor Month
National Library Month
Weeklong Events
National Laugh Week (first week)
National Library Week (week of the first Sunday)
Pan American Week (week of April 14)
Gardening Week (second full week)
National Bike Safety Week (third week)
National Coin Week (third week)
Reading Is Fun Week (third week)
Professional Secretaries Week (third or fourth week)
Earth Week (week of April 22)
Big Brothers/Big Sisters Appreciation Week (last week)
National Science and Technology Week (last full week)
Special Days and Celebrations
The Boston Marathon (third Monday)
Look-Alike Day(third Tuesday)
National Arbor Day (last Friday)
Easter(first Sunday after the first full moon following the vernal equinox)
Passover (in March or April)
Holocaust Memorial Day (in April or May)
April 1st had two birthdays. One was in 1578 of William Harvey, English physician who discovered
the circulation of blood through the body. The second was in 1933 when Jan Wahl, children's author
was born. The events for the day are one in 1789 The U.S. House of Representatives held its first
full meeting in New York City. In 1826 An internal Combustion Engine was patented by the
American inventor Samuel Morey. In 1841 Edgar Allan Poe's "The Murders in the Rue Morgue, "
considered the First Detective Story, was published.
April 2nd has three birthdays. One is for Charlemagne (Charles the Great), Frankish king, born in
742. The next is For Hans Christian Andersen, Danish author of fairy tales, born in 1805. Book (1)
says, "Hans Christian Andersen once said that fairy tales must contain the elements of tragedy,
comedy, irony, and humor. Share with your (children) some of Andersen's most famous
tales--"The Ugly Duckling," "The Emperor's New Clothes" "The Red Shoes" and so on. Then ask
the children to note how Andersen wove in the elements he cited." Last is for Frederic
Auguste Bartholdi, French sculptor who created the Statue of Liberty, born in 1834. We will be
talking about the Statue of Liberty soon.
The first event for April 2 happened in 1792 when Congress authorized the establishment of the
First U.S. Mint. Book (1) wants you to know that When Congress first authorized the creation of a
mint, it decided that the coins made there should contain a certain amount of silver for the task.
So George Washington donated some of his own household silver.
Without looking, can your (children) describe the front and back of a penny, nickel, dime, and quarter?
 Have them share their descriptions with one another, then check their accuracy with some coins.
Next, ask the kids to imagine that they're archaeologists carefully examining U. S. coins. What do
the various designs, symbols, buildings, and people pictured on the coins tell about American culture?
In 1865 Confederate President Jefferson Davis and most of his Cabinet fled the Confederate
capital of Richmond, Va.; In 1871 The First Canadian Census recorded 3,689,257 persons. Can you
find out what any of our Census' read today.
It is considered International Children's Book Day today along with it being National Humor Month,
Book (1) says to poll your (children) to find out what makes them laugh. Then have them each
write a story or draw a picture of a time when they laughed because they saw or heard something
funny. Invite them to share their work.
April 3 has three birthdays. One is of Washington Irving, American author, born in 1783. The next
is of Jane Goodall, ethologist and chimpanzee expert, born in 1934. Book (1) says she was 7 years
old when she read The Story of Dr. Dolittle by Hugh Lofting. The book started her dreaming of going
to Africa to study animals. In 1960, at age 26, she traveled to East Africa to live in the wild and study
chimpanzees. Have any books inspired your students to set career goals? Ask them to list three
major goals they'd like to attain after they finish school. The last birthday is of Eddie Murphy,
American actor and comedian, born in 1961.
The first event for April 3 was in 1776 Harvard college conferred an Honorary Degree of Doctor
of Laws on General George Washington. The next was in 1793 in which the First American Circus
opened in Philadelphia. This would be a good time of year to conduct some of your own pretend
circus practicing on boards etc. in the yard and putting pretend circus with stuffed animals and
puppets inside. Use your imagination and color plenty of pictures use things for math along with
eggs and Easter things even draw many things. 
In 1800 Congress authorized the widowed Martha Washington to send all her mail Postage-free.
In 1805 Ten members of the Lewis and Clark Expedition returned to Washington to show President
Jefferson animal and plant specimens they'd collected. As your remember from our History book
lessons Book (1) describes this as "Commissioned by President Jefferson to find a land route to the
Pacific Ocean, expedition leaders Meriwether Lewis and William Clark set out in 1804 from
St. Louis, MO., with 45 men. In a keelboat and two dugouts, they traveled up the Missouri River
to the mouth of the Yellowstone River, sighted the Rocky Mountains, and followed the Jefferson
branch of the Missouri through the Rockies. Then they followed the Columbia River to the Pacific. Have
your (children) trace the route on (a map.) Throughout their journey, Lewis and Clark collected plant
and animal specimens and kept detailed journals of their travels. Have your students sketch and
describe a plant or animal native to your region.
In 1837 The Ohio Institution for the Blind, the First State-Supported School for the Blind, was authorized.
In 1860 The Pony Express began service between St. Joseph, MO., and Sacramento, Calif. Talk
about the Pony Express to your children as much as you can. I am sure you could find information 
about it if you searched.
April 4 is Friday and the first birthday is in 1802 in which Dorothea Dix, American social reformer,
was born. Book (1) says, "Tell your (children) that a Sunday school teaching assignment at a
Massachusetts jail changed Dorothea Dix's life--and the lives of many of the stat's mentally ill.
During her assignment, Dix noticed that mentally ill prisoners received poor care. This discovery
spurred her to investigate other places across Massachusetts where the mentally ill were kept. When
she presented her findings to the state legislature, reforms were enacted. Ask your (children) to
identify living conditions in their area that require reform. If possible, have the kids go on fact-finding
missions with cameras and notebooks in hand. Then have them present their findings to local
government officials. It is a good time to put their newspapers to work." The second birthday is of Maya
Angelou, American poet, born in 1928.
The events for the day include one in 1841 in which President William Henry Harrison died a month
after his inauguration. Use your imagination with this one.
In 1850 The city of Los Angeles was incorporated. In a877 A telephone was first installed in a private
home. In 1887 Susanna Medora Salter was elected mayor of Argonia, Kan., thus becoming the first
Woman Mayor in the United States. She served for 1 year at a salary of $1. Lastly, this is
National Reading a Road Map Day so take advantage.
Grandma will get back to you as soon as possible.      
/